Sense and responsibility
LAU hosts EU-funded Media Neighbourhood project's first student conference on conflict reporting and social media.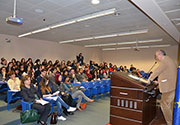 War correspondent Sami Ketz shares his experience with the audience.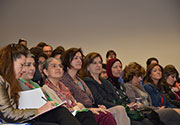 Professional and student journalists, activists, EU representatives and LAU officials attended the event.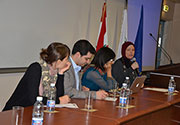 Assistant Professor of Journalism and Media Studies Dr. Yasmin Dabbous presents the panelists.
Click on any photo to view all three pictures.
Student and professional journalists gathered on March 3 at LAU Beirut to attend a conference on "Conflict Reporting and Social Media." The event was hosted by the School of Arts and Sciences (SAS) in collaboration with the university's Advancement Communication Manager Nada Torbey.
Kicking off the event, SAS Dean Dr. Philippe Frossard said, "Social media is a tool, and we have to make the best and most judicious use of that tool with constant respect for moral and ethical values."
The conference is the first in a series funded by an EU media-training project called Media Neighbourhood. It covers 17 countries in the Middle East, North Africa and Eastern Europe. A consortium led by BBC Media Action - which includes AFP Foundation and L'Orient Le Jour - is conducting the training.
The project has three main aims, according to project leader Alice Morrison: to improve journalistic standards in the countries surrounding the EU, to develop reporting about the EU and the European neighborhood, and to build an extensive network of journalists.
"We are trying to create a network of 1,200 professional journalists and 500 students from the 17 countries," Morrison told the students. "I have got your e-mail addresses and you are now part of my family, so you will be hearing from me and I hope you will take advantage of this network."
Considered by his peers to be one of the most experienced war correspondents, AFP's Sami Ketz shared anecdotes from his 30-plus years of experience with an eager audience. Giving a graphic description of what war coverage should be like, he recounted stories of men, women and children he had met throughout the region. Not mere witnesses, journalists are driven by a desire to tell the story and by curiosity, he says. "It's a modest ambition after all to tell extraordinary things to people living an ordinary life. And to do that, curiosity is the first requirement of any journalist."
Journalists and activists later discussed the challenges faced by reporters when covering conflicts, including verifying information and sources, objective and ethical coverage, and last but not least, the role journalists and media play in such conflicts.
EU Ambassador to Lebanon Angelina Eichhorst said that in many ways, journalists and diplomats were similar, that they rely on each other as mutual sources and have the same obligations to verify their information, carrying the responsibility to relay a correct and accurate report.
Talking about the recent uprisings in the region and the subsequent popular disillusionments Eichhorst said there is a very strong demand for honesty from democratically elected politicians, from the international powers and from the citizens among themselves.
To fulfill that, she added, "We need to go back to the EU values" that are shared by the 27 member-states and that stand for a civil state that encompasses human dignity, freedom, gender equality, democracy and last but not least the rule of law.
"Honesty, working on a stable state, be more humble, don't predict too much but work very hard on a daily basis together for the same values," is, according to Eichhorst, what will allow the peoples' expectations to be met.