Serving society through continuing education
LAU's Continuing Education Program signs a memorandum of agreement with the General Union of Arab Chambers.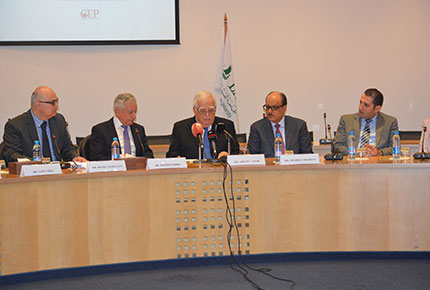 In line with its commitment to promoting education beyond its campuses, LAU signed on Monday a memorandum of agreement with the General Union of Arab Chambers allowing the university's Continuing Education Program (CEP) to provide trainings and workshops to the members of chambers in Arab countries.
"We will provide young professionals with executive training programs in a bid to build their capacities," said Michel Majdalani, director of LAU's Continuing Education Program, during a signing ceremony held at the Adnan Kassar Edifice for Arab Economy. Majdalani went on to explain that the agreement will also be of great benefit to LAU. "The agreement will make it easier for LAU to offer its professional trainings because the university will get the chance to use logistics facilities available at the chambers in different Arab countries," he said.
In the meantime, members of Arab chambers will benefit from the latest methods that LAU's CEP can provide. "We are in a position whereby we will be engaging in a transformational leadership role that is badly needed by both the new generation and existing professionals," Majdalani said. He considers the partnership to be a synergy that will allow the university and Arab chambers to create greater good for the society not only in Lebanon but also in the Arab world.
Majdalani's comments were echoed by LAU's President Joseph G. Jabbra. "We are here together to respond to the needs of every single member of the Arab society, not only in Lebanon but across the Arab world," he said, adding, "We should serve each other because otherwise we won't be able to advance."
The university's president expressed the view that the Arab world needs new leaders and in fact can no longer afford not to have them. "Those new leaders are in our youths, in you, in every single member of society," he said. "Enough is enough. We need to rebuild our society and the university is happy to be a partner with the union in order to do that," he added.
Jabbra also praised Adnan Kassar — president of the General Union of Arab Chambers of Commerce, Industry and Agriculture — for his hard work in rejuvenating the union in response to the needs of society.
"I am delighted for LAU to be partners with you, Mr. Adnan, and everybody who is willing to contribute to building society," he said.
Meanwhile, Kassar expressed how honored he felt to be signing the memorandum of agreement with LAU while praising Jabbra's efforts in maintaining the university's high standards of education. "Today is a great occasion to start a new phase of cooperation between the Arab private sector and the Lebanese American University in a way that would contribute to creating new job opportunities in addition to catering to the needs of the job market," Kassar said.