Serving the South: CEP goes to Nabatieh
LAU signs a memorandum of understanding with MP Ali Osseiran to establish a CEP center in Nabatieh.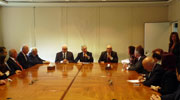 The CEP center in Nabatieh will be the third satellite after Tripoli and Zahle's centers established earlier this year.
Click on the photo above for larger version.
LAU President Dr. Joseph G. Jabbra signed a memorandum of understanding with Lebanese MP Ali Osseiran April 30 to begin planning for the establishment of a Continuing Education Program center in partnership with Adel Osseiran Vocational School in the southern city of Nabatieh.
Osseiran, son of the late-Lebanese statesman Adel Osseiran, represents the southern district of Zahrani. He said he hoped the establishment of a CEP center in Nabatieh would focus on teacher training.
"The most successful people in the South come from families whose parents are teachers," he said.
During the signing ceremony Osseiran added: "LAU is considered to be one of the best universities in the region. This program is an opportunity for the youth to improve their knowledge and skills in different, specialized fields. It is a human development project. We are confident that it will open new horizons, especially since LAU is known for its social and academic roles as well as its intellectual production."
Earlier this year CEP established satellites in Tripoli and Zahle. Nabatieh is seen as the final link.
"We've always said that if people cannot come to the university, we will bring the university to them, and this is the strategy we've been following, connecting the university with the North, with the South and with the Bekaa," Jabbra said. "In our mission, service is absolutely essential. We need to serve others so they may have a better life."
Michel Majdalani, CEP director, explained that Osseiran was chosen as a partner due to his commitment to the people of the South.
"We feel very confident that MP Osseiran is doing the best for his constituents, and we feel the relationship is moving forward," Majdalani said. "Nabatieh is a beacon of nationalism and we look forward to serving the people of the region."
Majdalani noted that the signing of the memorandum was only a first step in the process to establish the center. The partners must now sit down to detail the roles of the stakeholders and the attributes of the program. Once established, the center will likely offer many of the same diploma and certificate programs offered in Beirut and the other satellites, with special tailor-made programs.
"We are delighted to have secured such a commitment and we are looking forward to a productive and creative series of courses and workshops to respond to the needs of the South," says Dr. Elise Salem, vice president for Student Development and Enrollment Management.
Dr. Philippe Frossard, dean of LAU's School of Arts and Sciences, expressed enthusiasm at the development of CEP centers as an opportunity to share the expertise of the university with communities throughout the country.
"Engagement in the community is one of the pillars of this university, and those should not just be words, they should really be practiced," he said. "It becomes the duty and responsibility of academic scholars to leave their ivory towers and engage in the communities they are supposed to serve."