Setting the stage for women
The Lebanese Democratic Gathering invites students to interact with actors in support of women's political participation.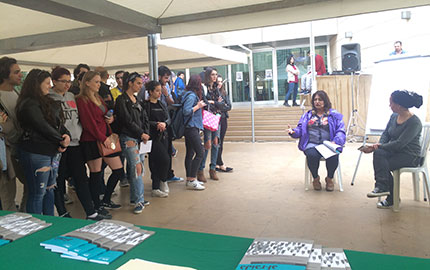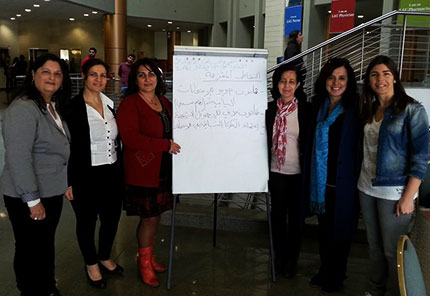 An interactive play addressing discrimination against women in politics enthralled dozens of students at both campuses last week. Organized by the Institute for Women's Studies in the Arab World, the event allowed students of communication arts to watch and engage with the twenty-minute play in Byblos on Tuesday while their peers in Beirut connected with the five actors on Wednesday.
Members of the Lebanese Women Democratic Gathering (RDFL), Caroline Succar, Maha Nammour, Kholoud Ashram, Rafca Abou Younes and Hanan Moghabghab, introduced the barriers to women's political participation with a ten-minute sketch in which each of the four women played a different member of one family.
Nadine, the protagonist, wants to run in the upcoming municipal elections. On announcing her decision, the audience bears witness to the reactions of her mother, brother and fiancé. "We're preparing you for marriage now, not elections," says the mother, to which one LAU student responded, laughing out loud: "That's what my mother would say!" The brother is supportive, in his own way. "Yes, good idea. I'll benefit nicely if you win." Nadine's fiancé, however, is not amused and wants her to focus on their imminent nuptials, despite her protestations that weddings, unlike elections, can be postponed.
In her role as the fiancé, student Fatima Ahmad declares: "Of course I will support you my love, and help you with your campaign." Thereafter, however, Ahmad questions the sham of encouraging women to participate in a sectarian political system that ultimately oppresses women. "We need to be within the system in order to change it," insists Succar, vice president of the RDFL, which this year celebrates its 40th anniversary.
The women have been performing this play in front of students and local residents at various locations across the country for some months now. "Reactions have been varied. Some people agree with the stance taken by the mother and the fiancé, others don't," explains Succar, who played the role of moderator during the LAU performances, inviting students to step into the story, play a character and react in the way they see fit.
As the performance expanded to include more students, so too did the size of the audience with many passersby drawn to the lively debates that developed. "Interactive theatre is a very useful tool for both communicating a message and engaging people in debate," says Succar of the initiative, one of many presented by dozens of organizations throughout the country under the umbrella of the Civil Campaign for Electoral Reform. "We were pleased that the students expressed support for increased women's participation in the political sphere and hope others feel the same way."
The event was part of the Institute for Women's Studies in the Arab World's Food for Thought monthly series.