London-based Shakespeare's Globe comes to LAU for a four-day workshop
320 participants from 13 high schools, two universities, and LAU students benefited from theater workshops at the Beirut campus.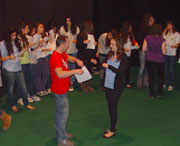 Workshop participants practice acting lines from Romeo and Juliet with the guidance of Adam Coleman (in red), a prominent British stage actor and senior practitioner at Globe Education.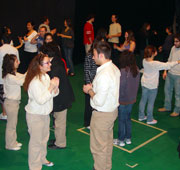 Students engage in left and right brain exercises.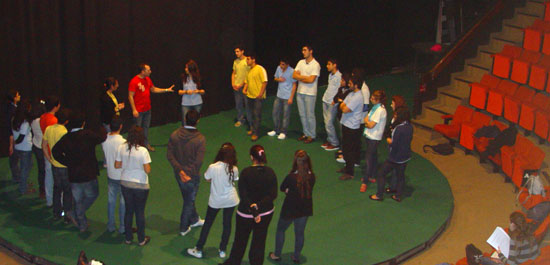 Coleman (in red) leads theater exercises at LAU's Gulbenkian Theatre.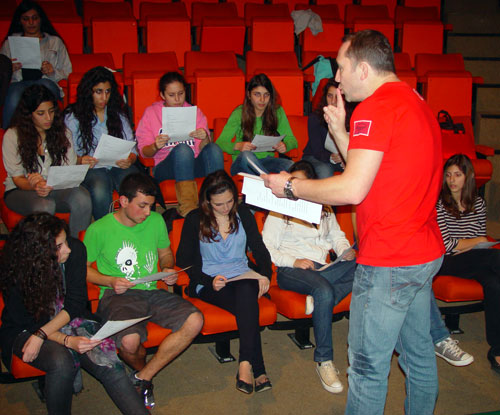 Coleman teaches students tone techniques by having them whisper-shout the lines.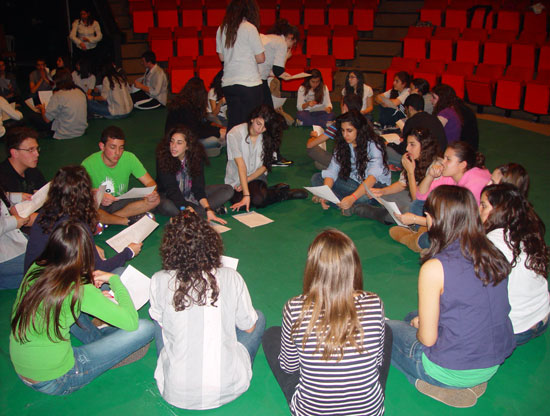 Students practice their lines from Romeo and Juliet in groups.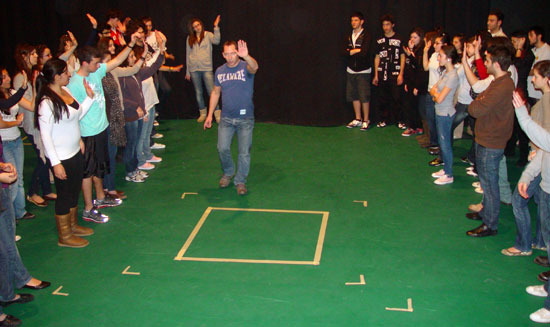 Coleman (middle) divides the group of participants into Montagues and Capulets and has them do exercises.
Click on any photo above to view all six images.
Hundreds of aspiring actors and thespians from across Beirut flocked to LAU to attend theater workshops offered by the renowned London-based Shakespeare's Globe Theatre, from February 17-20.
The workshops were given by Adam Coleman, a prominent British stage actor and also senior practitioner at Globe Education — the public educational division of the Shakespeare's Globe Theatre.
Coleman set out to teach theater techniques such as communication skills, body language, tone, and brain gymnastics, in addition to self-awareness and self-knowledge.
320 participants from 13 local high schools, two local universities, as well as LAU students, benefited from the workshops held at the Gulbenkian Theatre on the Beirut campus.
"We put physicality, body language and words into Shakespeare's play Romeo and Juliet. Then we went through a 10-step program to bring words from the page to the stage," says Coleman, who has 20 years of experience as an actor and has previously given workshops at LAU in 2004 and 2005.
The workshops were a joint venture between LAU, Globe Education, and Lebanon's branch of the English Speaking Union, and were supported by the British Council.
Hala Masri, theater coordinator in the Beirut campus, says the students all said they "learned how to express themselves properly," as well as gained an understanding of "how to express emotions on stage."
Sima Ghaddar from the Hariri High School in Saida says the workshop has nurtured her love for acting by giving her a chance to improve her skills: "[We learned] verbal communication, posture, personality and how to build our character through acting."
LAU student Iman Khozam says the workshop was a really interesting and liberating experience. She explained: "I'm a Play Production student so I learned a lot of techniques and how to apply them to my actors later on."
Coleman says the students' responses were absolutely brilliant. "I couldn't want for a better response," he says. He explains that workshops conducted overseas often make him feel more valued.
"People are really appreciative here of the fact that these visits are being put on. The biggest thing they keep asking is, 'Are you coming back? Are there more sessions?' That's the biggest complement," he says.
Masri says in addition to introducing high schoolers to LAU's communication arts program, the workshops "give students an idea about acting on stage and confidence to express themselves on stage." She adds: "This is their introduction to acting."
The Globe Education program offers a year-round program of workshops, courses and events open to the public. The program also encompasses year-round international outreach projects for students and teachers. Annually, the Globe Theatre hosts over 100,000 guests at the Globe Theatre in London for local workshops.
Read more about the workshops held at LAU in an article posted on The Times Educational Supplement's website.