Shining a Light on Mental Health
An LAU nursing professor gets a WHO grant to help young refugees learn to cope with daily challenges.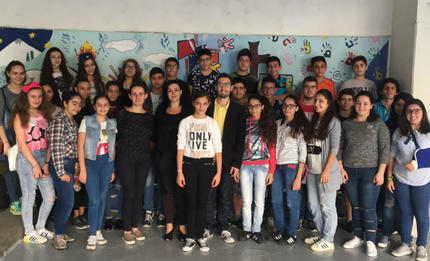 An LAU professor is shining a light on often-overlooked issues of mental health, while at the same time producing valuable research backing the efficacy of an intervention program never before used in the region.
Rita Doumit, assistant professor at the Alice Ramez Chagoury School of Nursing (ARCSON), has recently completed a pilot project aimed at improving mental-health outcomes and quality of life among Syrian refugees in Lebanon with funding from a World Health Organization (WHO) grant.
The project was a research-tested intervention program called COPE (Creating Opportunities for Personal Empowerment), which was originally created by Dr. Bernadette Melnyk, dean of the Ohio State University College of Nursing, vice president for health promotion and chief wellness officer. After meeting Melnyk and learning about the program, Doumit applied for a grant from the WHO to implement it in Lebanon. The pilot is the first time COPE has been run in the Middle East.
"After I was certified as a licensed instructor of the COPE program, we were able to test it here in Lebanon and found it to be as effective among Arab teens as in their American counterparts," Doumit said.
Doumit ran COPE with Chant Kazandjian, her former student (BSN '13) and current Mental Health Unit Team Leader at Caritas Lebanon. The program consisted of seven sessions based on a cognitive behavioral therapy approach to improve mental health in a sample of 34 male Syrian refugees between 13 and 17 years old at Howard Karagheusian Community Center in a suburb of Beirut.
The program helps provide adolescents with stress-reducing skills that they can use throughout their lives, such as learning how to turn negative thoughts into positive ones. Doumit says this is highly important, as "mastering awareness of how one reacts and responds to negative thoughts may be crucial for refugee teens who have minimal input into their own future. Skills taught and reinforced encouraged teens to identify signs and symptoms of depression effectively and encouraged them to take action to mediate those symptoms through the homework assigned."
Indeed, preliminary results, which Doumit and Kazandjian will be submitting for publication this spring, revealed that the intervention helped adolescents reduce anxiety and depression, leading to reported increases in their quality of life. The study bolsters the continuing push for valuable research published by ARCSON and other LAU schools every year.
For Kazandjian, who also worked alongside Doumit as an on-site COPE instructor for the adolescents, "The COPE program is a promising tool to address the mental-health needs of refugee populations given its simplicity and effectiveness. The program not only helped the teens learn healthier coping skills, but also built a sense of community and social relationships among them that facilitated the overall effectiveness of the program."
Based on the results of the COPE pilot study, Doumit and Kazandjian aim to continue their work with a larger population. "My aim is to implement this program on a national scale to help improve mental health among both Syrian and Lebanese adolescents," Doumit said.