Showing LAU pride just got easier
LAU launches its first Memorabilia Gallery with hopes of demonstrating the university's spirit to the community and beyond.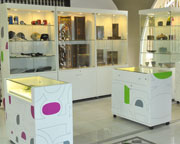 The newly launched LAU Memorabilia Gallery at Orme-Gray Hall, Beirut campus.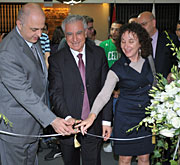 From left: Roy Majdalani, VP for Human Resources and University Services; LAU President Dr. Joseph G. Jabbra; and Dr. Elise Salem, VP for Student Development and Enrollment Management, cut the ribbon at the gallery's inauguration.

Memorabilia items on display.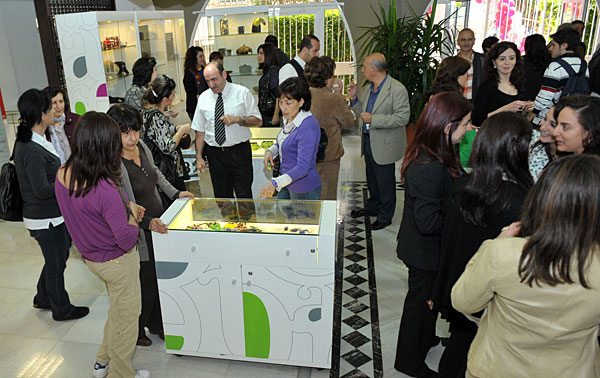 LAU faculty and staff gather for the gallery's opening ceremony.
Click on any photo above to view all four images.
"We all carry LAU in our hearts," LAU President Dr. Joseph G. Jabbra said during the inauguration of the university's Memorabilia Gallery at Orme-Gray Hall, Beirut campus, on April 28.
Now the LAU community can wear those hearts on their sleeves.
Students, alumni, faculty and staff have the opportunity to show off their LAU pride through a wide variety of souvenirs and gifts including t-shirts, lanyards, umbrellas, USBs, pens, mugs, mouse pads, hats and frames, among other items.
"We have memorabilia to wear at home, during professional occasions, on campus, out in the community, so everyone knows we belong to LAU," Jabbra added during the opening ceremony.
The Memorabilia Gallery initiative has been in the works for about four years — first identified in the 2005-2010 LAU Strategic Plan — but really gained speed within the last four months, according to Roy Majdalani, vice president for Human Resources and University Services at LAU.
"This has been a collective effort from several departments at LAU," said Majdalani, who spearheaded the gallery opening. "It is about establishing an entity that will provide branded gifts to be used by our alumni, at our social venues in order to promote a unified visual identity for our institutions and strengthen the link between LAU and its graduates," he added.
The various units that made this project possible included Alumni Relations, Auxiliary Services, Business Office, Campus Operations and Maintenance, Graphic Design Department, Hospitality Services, IT, Marketing and Communications, Planning and Renovations, and Purchasing.
Maria Bahous, visiting lecturer in the School or Architecture and Design, designed the special memorabilia logo, as well as the wrapping papers and bags now on display for purchasing in glass cases at the entrance of Orme-Gray Hall.
Bahous said it took about one month to complete the design of the logo. "It is still a work in progress. There are a few more items to be added to the collection," she said.
"Bahous injected a lot of creativity and artistic talent into the end product, which is attractive, modern and elegant," said Majdalani.
Both Bahous and Majdalani think that the LAU-branded USBs will be the hottest sellers among the student population, followed by t-shirts and mugs.
Down the road, the collection of memorabilia will include artistic creations by students and faculty, craft designers and local non-governmental organizations, in an effort to highlight the different aspects of Lebanese culture.
"Our unique spirit as a university lives in each one of us and animates the community," Jabbra said to the large crowd of university officials, faculty, staff and students who gathered for the inauguration. "Memorabilia is important because it confirms that spirit, symbolically. Now people can see it, not just feel it."
"I hope that sales will be good," he added with a smile.
A website is currently being developed for members of the LAU community to browse and buy items online and have them shipped to various corners of the globe.