Six LAU Model Arab League delegates return from Washington with six awards
All LAU Model Arab League delegates return from Georgetown University MAL program with awards for outstanding and distinguished performances.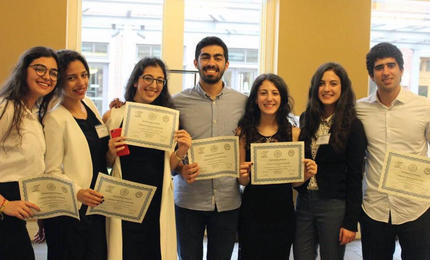 The six high-school delegates of the LAU Model Arab League (MAL) program who took part in the recent Georgetown University MAL conference came back home full handed. Four won Outstanding Delegate Awards and two Distinguished Delegate Awards.
"We are so delighted that the contagious culture of leadership for a better 'global village' has firmly taken hold among our students," said LAU President Joseph G. Jabbra upon hearing the news.
The six delegates were selected from over a thousand students from 80 schools in Lebanon who took part in training workshops led by distinguished LAU student leaders, themselves trained and supported by the university's Outreach and Civic Engagement unit (OCE).
"Youth teaching youth has proven to be an instrumental educational pedagogy," said Assistant Vice President for Outreach and Civic Engagement Elie Samia. "It is among the factors that have led to the systematic growth of our six-year-old MAL program that is becoming as credible and respectable as our signature Model UN Program."
OCE is a firm believer in the extensive opportunities for self-growth and international networking that simulation programs such as MAL and MUN provide students. This year, it added a third such program with the launch of LAU Model European Union (MEU). The primary differences between the three pertain to the blocs they represent, and therefore the issues addressed. MAL, with its focus on the 22 states of the Arab League, enables motivated and civically minded youths to engage in discussions about topics that are pivotal to the region on the geographical, economic and socio-cultural levels, such as terrorism, Islamophobia, lateral trade, and inter-Arab relations.
"Going into the MAL program, I never expected it would mean so much to me," said award-winning delegate Eyma Basha, a student at International School of Choueifat. "The people I've met, the places I've been to, the things I've experienced; we made history!"
Glad for the opportunity to travel and represent his country was fellow delegate Jack Zaarour, a student at Saint Joseph School, Conert Chahwan. "Halfway across the world, we were able to shine and prove ourselves just as we'd hoped to, and came back to Lebanon not only with awards in our hands, but with memories we will never forget."
Also proud of their multi-award win was International School of Choueifat student Rewa Snih. "We demonstrated that we don't just excel in environments familiar to us, but that we can also adapt and prove ourselves in those out of our comfort zones."
The students were mentored by a team of dedicated LAU students who run the LAU MAL program and are, this year, working under the leadership of senior banking and finance student Youssef Taher, the secretary general. "We went with six delegates and returned with six awards," boasts Taher. "They helped one another in achieving a unified goal. I'm very proud to call this group my new family."
Joelle Fawzy, one of the Georgetown conference delegates studying at Central College, echoed the sentiment. "We shared tears, laughter, success and, of course, the joy of winning."
Last month, LAU MAL and LAU MEU, undertaken in partnership with the Hariri Foundation for Sustainable Human Development (HFSHD), celebrated the graduation of 1,200 students enrolled in the programs. The event, held at the Outreach and Leadership Academy (OLA) in Sidon, also marked six years of partnership between the HFSHD and LAU which, this year alone, saw over 70 student scholarships granted to the MAL and MEU graduating cohorts.