SOE dean to serve on GEDC executive committee
Dr. George Nasr's most recent appointment puts the School of Engineering in the spotlight.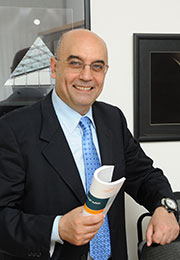 Dr. George Nasr has been serving as dean of the School of Engineering since October 2006.
Dr. George Nasr, dean of LAU's School of Engineering, was recently elected to serve a three-year term on the executive committee of the Global Engineering Deans Council (GEDC), effective October 1, 2013. He will be one of a total of six members to serve on the GEDC's executive committee.
An affiliate of the International Federation of Engineering Education Societies (IFEES) — which includes the American Society for Engineering Education (ASEE) and the European Society for Engineering Education (SEFI), among others — the GEDC is a global network of engineering deans that aims to enhance the capabilities of engineering deans to transform schools in support of societies in a global economy.
With members from 30 countries — including Argentina, Morocco, Sudan, the U.S.A. and Mexico — the GEDC's main goal is to provide engineering deans and rectors with ideas, tools, and "best" practices necessary to become innovative leaders of engineering education.
"This is an important recognition for the school as well as the university in its pursuit of educational excellence," said Nasr.
"Indeed, this is a signal achievement for the School of Engineering and for LAU," said LAU President Dr. Joseph G. Jabbra, echoing Nasr. "I am sure Dr. Nasr's election to the executive committee of GEDC will give the School of Engineering global visibility, offering us the opportunity to be part of an august body dedicated to the advancement of engineering education, as well as the promotion of research and service to the global community."