Solar car is built on LAU's Byblos campus
Seven LAU and high school students, supervised by LAU professors, developed the car and displayed it at LAU's Science and Arts Fair.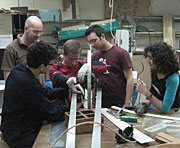 Dr. Barbar Akle and some of the students during an early stage of the building of the solar car.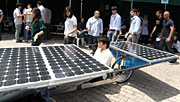 Sako Khatcherian successfully drives the car at the Science and Arts Fair, Byblos campus.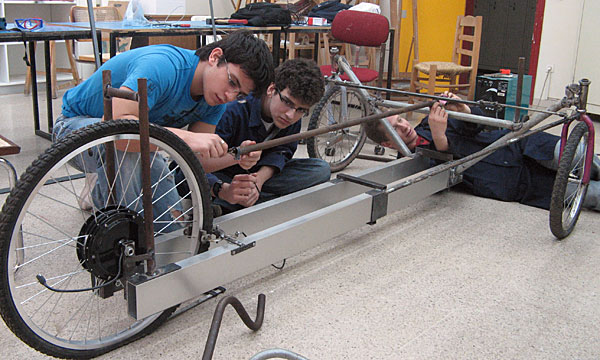 Khatcherian (left) shows his fellow high school student how to assemble the wheel, while senior LAU engineering student Fadi Barakat is working on the steering.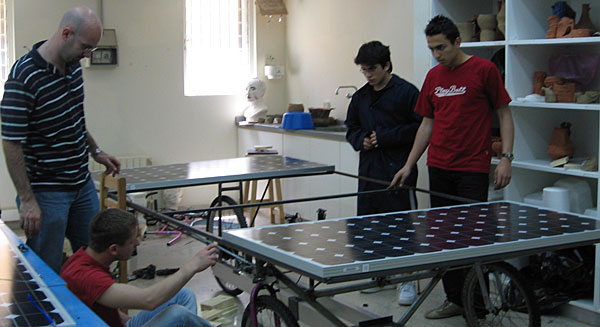 The students test the steering of the car under Dr. Akle's supervision.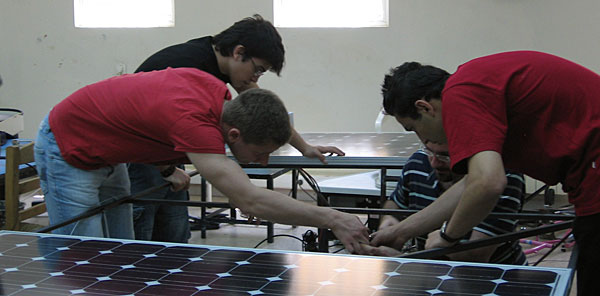 Akle (sitting) and the students assemble the car for the last test before the exhibition.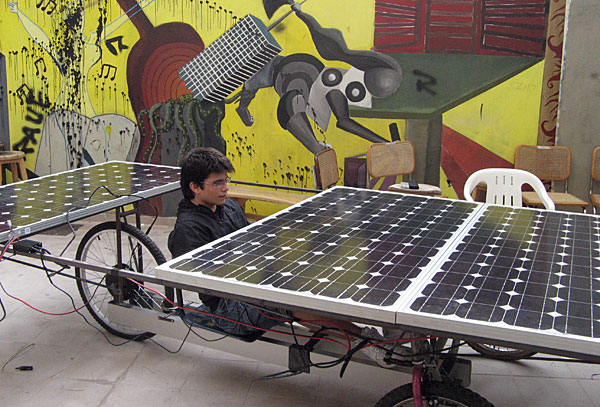 Khatcherian tests the car after the manufacturing session.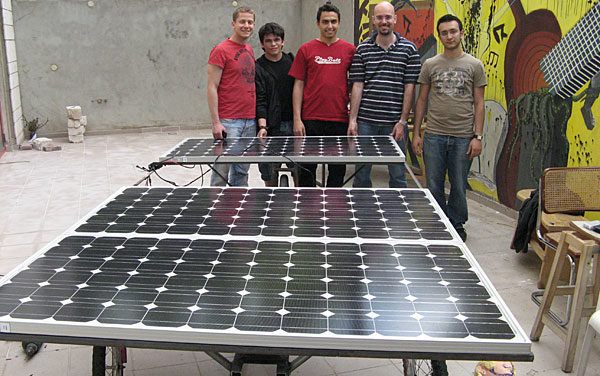 From left: LAU student Fadi Barakat, Sako Khatcherian from Montana International College, Carlos Habib from Rosary Sisters School, Dr. Barbar Akle, and LAU student Ali Jaber.

Click on any photo above to view all seven images
At a makeshift laboratory of sorts in the basement of the Architecture Hall at LAU's Byblos campus, two LAU students and six high schoolers, led by university professors, gathered for several weeks in April and May to develop a solar car—the first one built at LAU.

The assignment was part of a project initiated by Dr. Brigitte Wex, assistant professor at LAU's Natural Sciences Department, and coordinated by Dr. Barbar Akle, assistant professor at LAU's Mechanical and Industrial Engineering Department.

The students, who designed the car under Akle's supervision, exhibited it at the 11th Annual Science and Arts Fair, May 7–8, and drove it around the Byblos campus.

"There is an abundance of sunshine here [in Lebanon] and a lack of electricity, and the two just go hand in hand" with optical engineering techniques, said Wex. "Why don't we just use the sun more?" she thought.

So, Wex sent a proposal for a grant to SPIE, an international society advancing an interdisciplinary approach to the science and application of light. After she received the grant, the Student Affairs Office in LAU-Byblos matched the amount of grant money enabling the budget for the solar car project to total approximately $4,000.

Different high schools were contacted to invite their students to participate in the project. Six students from Montana International College, David Karam Educational Center, Rosary Sisters School, Jesus & Mary School, Institut Moderne du Liban, and Saint Joseph School showed enthusiasm to join.

"I think we have done a great job with the $4,000 we had," Akle said.

Fadi Barakat, an LAU mechanical engineering senior student, said it took them three weeks to build the car.

Barakat explained he worked with fellow student Ali Jaber on the design, which took a week, while Akle came up with a simulation for the high school students to better understand the project.

The high schoolers were very excited about helping to put the car together. "I liked working on it and I've already decided to come to LAU and become an engineer," said 14-year-old Sako Khatcherian, from Montana International College.

"These are very talented students whom I see becoming LAU students in the future," Wex said.

According to her, it is very important to show people how LAU is involved in creative projects and "events that are not solely part of the curriculum, but also help you develop who you are."

Akle wants to see the solar car project grow. "Hopefully, next year we can improve the car and one day we can even race with it in competitions," he said.

In previous years, high school students participated in building other innovative projects for the annual Arts and Science Fair, including a rocket, remote-controlled solar-powered race cars (two years ago), and a balloon launcher (last year).