Solving the Ukrainian crisis in one LAU classroom
Student Maria Abou Atmi tells us about her thrilling UN council simulation experience.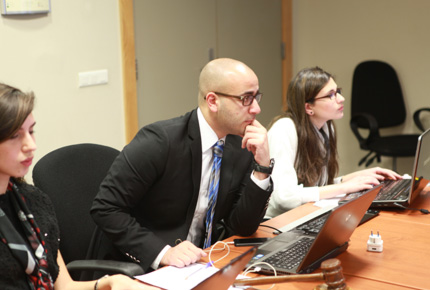 In picking a field of study I threw caution to the wind, ignoring "practical" majors like engineering or finance and casting my lot with political science/international affairs.
My classmates and I bonded over endless debates about the theories of revolutions or the wisdom of Japan's lack of a standing army, our experience enhanced by LAU's wide range of expert guest speakers. Last semester alone, the Beirut campus hosted lectures by four different ambassadors. However, though the courses were undeniably enriching in terms of knowledge and leadership skills, I started to wonder if my destiny holds more than the promise of being the world's most interesting dinner guest.
The Foreign Policy of Major Powers course taught by Assistant Professor Jennifer Skulte-Ouaiss incorporates a United Nations Security Council (UNSC) simulation on pressing global issues. Last spring, the course simulation coincided with Russia's annexation of Crimea and the ensuing chaos in Ukraine. Skulte-Ouaiss split our class into teams representing the five permanent members of the UNSC, and appointed teams to play Turkey, Ukraine and Germany as honorary members. Along with four of my classmates, I was asked to represent the Russian Federation.
Before the simulation, we spent weeks conducting research on all aspects of the crisis. We had to know the details of the stakeholders' stances inside and out, so that we could not only explain them clearly and form alliances, but also negotiate a feasible resolution. On D-day, dressed up in formal attire, we arrived early to laugh and joke while putting up our respective posters and propaganda.
Obama and Putin eyed each other sternly, with Merkel and company meekly looking on as Skulte-Ouaiss banged the gavel to start the proceedings. The time and care taken in the crafting of the opening statements was obvious. One team after another laid the groundwork for the next two sessions, accusing without being insulting while making clear the key issues and allegiances.
With each member of our team specialized in a particular topic, our attacks and defenses were multi-pronged and well researched. By the end of the second session, the different teams were looking forward to drafting a resolution in the next meeting.
Day three found us all smiling, and casually joking that if we were in charge world peace would be resolved in a week. Skulte-Ouaiss came in a few minutes late, followed by the Ukrainian delegation. We took our places and prepared to start the session when our professor took the floor with a surprise announcement: "The American and Ukrainian delegation have agreed to split Ukraine into two countries. The east will fall within the Russian sphere of influence, with Crimea remaining in Russian hands, and the west will be oriented towards Europe. This decision has already been taken. Thank you."
This was clearly a fictional outcome, but to us in that classroom it was a complete shock. As the Russian delegation, we were horrified. The Ukraine delegation – with whom we had supposedly come to an agreement – had colluded with the United States behind our backs? It was unthinkable.
The final session was the most exciting of all, with some of the delegations refusing to recognize the two Ukraines, complaining of backstabbing and recalling the failures of Sykes-Picot. Others pointed out that while partition might temporarily solve the crisis, it would set a worrisome international precedent. What about Kurdistan, Catalonia, Chechnya or Palestine? Though all hope of a resolution was lost, the day was absolutely thrilling.
The simulation was all I could talk about for weeks. I had participated in Model United Nations before, and even been on an MUN trip to The Hague, but what happened in that Beirut classroom opened up my mind to a world of foreign policy and negotiations that I had never experienced before. I was in love.