Souraty's stylish experimental play is an emotional journey
This year's first major theater production at LAU, In the Heart of the Heart of Another Body, directed by LAU instructor Nagy Souraty, runs till January 17.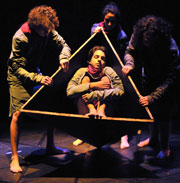 This year's first major theater production at LAU, In the Heart of the Heart of Another Body, boasts a powerful aesthetic that captivates audiences.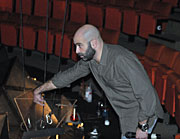 Nagy Souraty, LAU drama and theater instructor and director of the production, makes some technical adjustments on stage during rehearsals for the play, which runs at the Gulbenkian Theatre until January 17.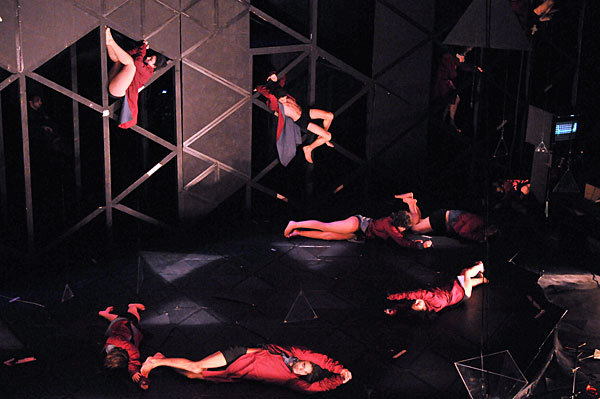 The play is a highly synchronized and stylish production featuring a cast of 15 and crew of 40.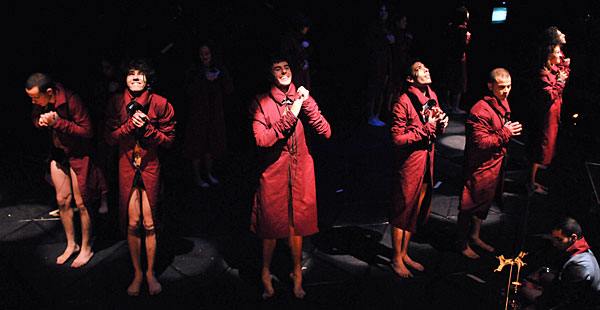 The play takes audiences through an emotional journey.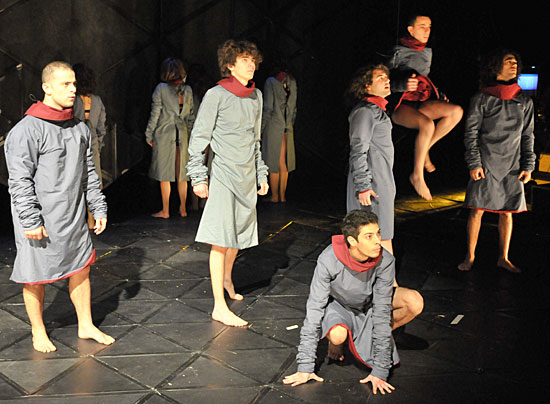 A photo taken during a rehearsal at Gulbenkian Theatre.
Click on any photo above to view all five images.
A crowd of Beirut's seasoned theatergoers, students and families packed into the Gulbenkian Theatre at the Beirut campus on Saturday evening, January 9, to watch the premiere of this year's first major theater production, In the Heart of the Heart of Another Body, directed by Nagy Souraty.
Souraty, a drama and theater instructor in the Department of Communication Arts at LAU, says that while the play is inspired by texts written by Etel Adnan, it is specifically influenced by Adnan's book of poems, In the Heart of the Heart of Another Country. The director says the performance is as a "collective creation" between him and the cast of 15 and crew of 40, of which most hail from LAU.
The starting point for all this, explains Souraty, is a heart attack he had a few months ago. He says that major incident in his life provided the impetus to explore the heart in this production. "I do not do theater by choice," he says. "I do it because I cannot do without it. I do theater because it is imposed on me by the world."
In the Heart of the Heart of Another Body is an impressive experimental performance featuring a cast of student and professional actors who play themselves, and auditioned for the roles last fall in an open casting call.
The interlinked ideas that are explored in the performance are the heart, memory, time, silence, sound, noise, childhood, survival, loneliness and humanity. Reflecting the multiplicity of languages used in Lebanon, the actors perform in Arabic, French and English.
Theatergoers who might be accustomed to watching traditional narratives unfold on stage were pre-alerted in the program that Souraty's In the Heart of the Heart of Another Body "is an experimental performance, is not based on a specific script," and "does not have a specific plot."
Kalyl Kadri is a third-year theater student at LAU and a cast member of Souraty's production. Asked to describe his experience of working as part of a large cast and crew on a production without a script, he says it was an interesting experience as an actor: "It's definitely a challenge. It's a completely different experience from script-based theater where a director tells you what he wants you to do. We don't have characters. He [Souraty] doesn't refer to us as actors. He refers to us as a dramatus personae, and we're basically stylized versions of ourselves on stage. This is something that you don't find somewhere else."
Kadri explains that this production cannot be viewed as a play or a show, but rather as a journey. "From the first and second night, most of the comments we were getting after the performances were emotional — 'We loved it,' or 'I was crying, but I don't know why.'"
"It's an experience that we're taking the audience through — a journey more than a performance," he adds.

The play runs nightly from January 9-10 and 14-17 at 8:30 p.m. sharp, at the Gulbenkian Theatre, LAU Beirut campus. Tickets can be purchased for LL10,000 and LL15,000 at the Gulbenkian Theatre's ticket booth. To reserve tickets or to find out more information, call 01-786464 or 03-791314 ext. 1172.