Spontaneity, concern for Lebanon mark Mona Jabbour's latest exhibit
Mona Jabbour, LAU alumna and art and design lecturer, showcased her artwork inspired by Lebanon's history and identity at an exhibit that ended early last month.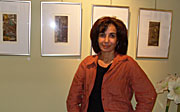 Mona Jabbour in front of her exhibits.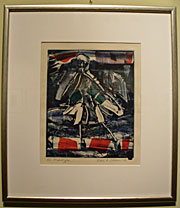 A representation of a person walking through the Lebanese flag.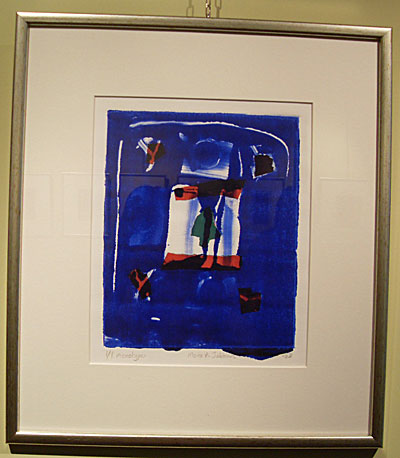 Beyond this work's peaceful background, Jabbour sees blood dripping from the sky and a quasi-torn Lebanese flag.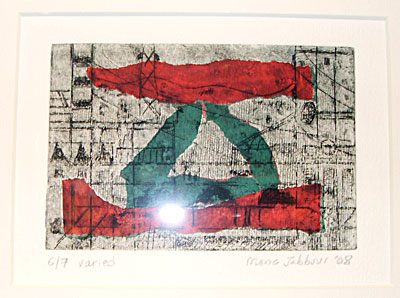 A collage depicting the Lebanese flag.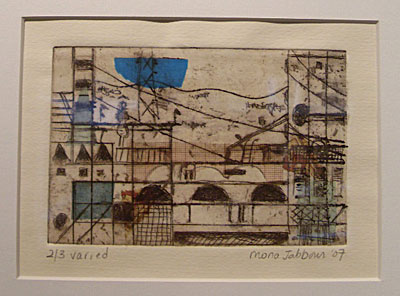 Jabbour shows a Mediterranean landscape through an abstract work.
Click on any photo above to view all five images
Troubled by the tensed and uncertain situation in Lebanon over the past few years, Mona Jabbour, LAU alumna and art and design lecturer, produced monoprints and monotypes inspired by the country's history and identity. The works were displayed at Masterpiece Gallery, Hamra, during a three-week exhibit that ended in early November.
Through her art, Jabbour said she wanted to rise above the confines of space, time and culture. "Sometimes you want to connect to the world around you, so you create another world," she said. Her exhibition was called "Transcending Boundaries," which "is about going beyond ordinary stereotyped ways of doing or seeing things," according to the event card.
The theme of the exhibits revolved around Lebanon's past, present and future.
Jabbour experimented with various motifs, textures, and colors initially without planning to showcase her works. She said it was an ongoing process during which she spent "some crazy moments" of doubt about what she was producing, "but that just kept me experimenting," she said.
The two forms of printmaking she used helped Jabbour be spontaneous and inventive. She produced similar patterns on subsequent prints (monoprints) by using etched plates, and unique prints (monotypes) resulting from clean-surfaced plates.
Jabbour developed these techniques in London and New York, where she continued her education after graduating from then-BUC with a B.A. in fine arts in 1984.
Having returned to her home country, Jabbour started teaching at LAU in 1999. She thinks a teacher's role is to help students' talents "come out in a natural way and not to stereotype what their students are doing."
"If you're a teacher and an artist you don't want the students to imitate your style and to become copies of you," Jabbour said. "So one of the most difficult things in life is to be a good teacher, because I think it's very complex to bring out the [other] person's voice in art, sensibility, artistic character, strong points," she added.
From her experience in various countries, Jabbour said, here, unlike abroad, art has stereotypes. "The circumstances in Lebanon and overall politics are so much part of our lives [that they] waste a lot of our energy. Abroad, people…don't have that as an obstacle. Art has gone beyond," she said.
Jabbour said she loves travelling to experience new developments and trends. "Here, things are very static compared to abroad," she said, adding that it's important to remain self-motivated.