Star female athlete takes down the competition
International judo champion and LAU Byblos varsity basketball player Karen Shammas hopes to qualify for the 2012 Summer Olympics in London.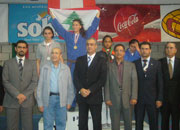 Judoist Shammas hoists up the Lebanese flag after her first place win.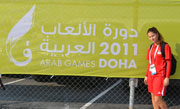 Shammas at the 2011 Pan-Arab Games in Qatar.
First-year business administration student Karen Shammas recently returned from the 12th Pan-Arab Games in Qatar with two medals for Lebanon: bronze in the under 63 kilogram weight category and gold in the open weight competition.
The double victory adds to the pile of athletic triumphs for the young star. "I have won first place in the Lebanese Judo Championship every year since I was seven," says Shammas, who was recruited to the national team in 2006.
The 18-year-old holds six gold medals from the West Asian Championships, two golds from the Arab Championships, and a silver and a bronze from the Asian Junior Championships. She placed seventh in the 2010 Youth Olympics in Singapore.
Shammas attributes her success to her vigorous training program. She began practicing judo biweekly at age five and her current weekly schedule packs in no less than 16 hours of sports training, on top of games and gym work-outs.
Training intensifies in the lead-up to major competitions. "Before major international tournaments, we train twice a day, in addition to gym training," says Shammas.
At age 10, Shammas added basketball to her sporting routine. She is a welcome addition to the women's varsity basketball team at LAU Byblos, and continues to play for Dik El Mehdi's prestigious Champville Club. The university commended her achievements with a 15 percent discount on tuition.
Juggling judo, basketball, and a full course load is no easy feat. "I am trying hard to manage my classes and studies along with my training sessions and other social activities," she admits.
"Karen is not only helping our women's varsity basketball team by leading the team in scoring, but her presence among other LAU student athletes encourages them and makes them believe that nothing is impossible," says Joe Moujaes, Director of Athletics at LAU Byblos.
Shammas derives a strong work ethic from her athletic background. "Judo and basketball have taught me that practice, persistence, concentration, and teamwork are essential to reach one's goals," she says.
Moujaes says that difference between an athlete and a champion, like Shammas, is a mix of perseverance, commitment, inner peace, mental toughness, focus, and most importantly character. "A champion is a winner who can handle various tasks at the same time and succeed. To have it all, sports and schooling, proper time management is key," he adds.
Shammas took on a new challenge in the recent Pan-Arab Games in Qatar, where she participated in the open weight category for the first time in her career. Advancing to the final proved particularly exhilarating. "I was playing the semifinal and final games against judoists in the over 78 kilogram weight category," she explains.
The gripping final match pitted the LAU student against Algerian world bronze medalist Sonia Asselah, whose size necessitated different throwing techniques. "I tried to keep balance every time she tried to throw me," recalls Shammas, who managed to hold her ground for almost three minutes. "In the end, [Asselah] took advantage of the weight difference and trapped and pinned me to the floor."
Shammas received the gold medal a month later, when the Algerian judoist was disqualified for doping.
She hopes to spend the summer at the 2012 Olympics in London. "I am training hard daily, hoping to qualify," she says. "One judoist will be representing Lebanon, and I have a good chance as I have a lot more international results than the others."
Shammas will also represent LAU at the 2013 Universiade in Kazan (Tatarstan, Russia).
"We are all behind Karen to best represent Lebanon and LAU, especially at the 2012 Summer Olympics," says Moujaes. "Karen, you are our female athletic idol - make us proud."