Starry performances highlight annual Christmas concert
LAU's annual Christmas concert was held at the Selina Korban Auditorium in Byblos, attracting a wide audience and featuring stellar performances.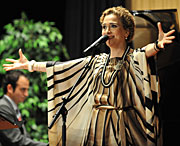 Renowned singer Joumana Medawar performs at the LAU Byblos Christmas concert.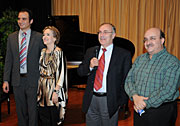 From left: Pianist Marc Abou Naoum; Medawar; Dr. Fuad F. Hashwa, dean of LAU's School of Arts and Sciences–Byblos; and composer, musician and LAU faculty member Joseph F. Khalife, who organized the event.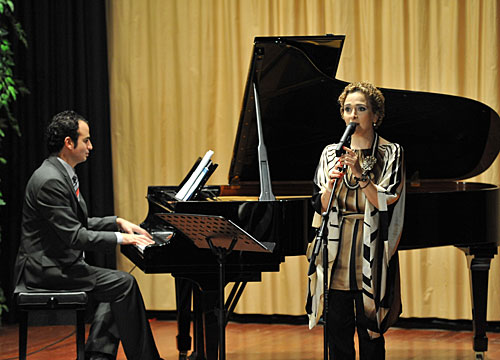 Pianist Marc Abou Naoum accompanied Medawar at the concert.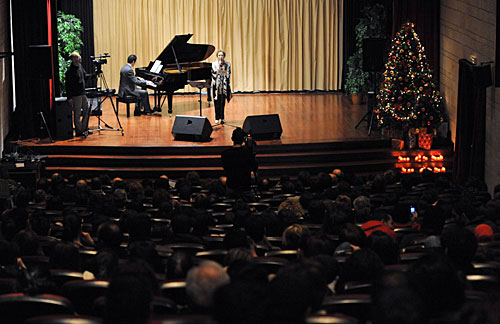 The annual concert was held at the decorated Selina Korban Auditorium on LAU's Byblos campus.
Click on any photo above to view all four images.
As an audience of children, staff, faculty and friends walked into the Selina Korban Auditorium at LAU's Byblos campus for the university's annual Christmas concert on December 14, smiles of joy and happiness filled the atmosphere with a spirit of love and peace.
The concert was organized by composer, musician and LAU faculty member Joseph F. Khalife, who also composed the music.
Khalife welcomed guests to the event, along with the dean of LAU's School of Arts and Sciences in Byblos, Professor Fuad F. Hashwa. Together, they thanked all who came from far and near to make it a successful event.
Hashwa reminded everyone of the holiday season that brought the crowds together to celebrate the Christmas concert.
Performer Joumana Medawar, a renowned international singer, known for her many performances in Europe, the United States, Canada and the Gulf countries, was the highlight of the evening accompanied by pianist Marc Abou Naoum.
While Medawar sang the 19 carols and songs, the audience listened with intensity and appreciation to her angelic voice, which reached the audience's spirit as they sang and hummed along with her.
Medawar first sang five songs in Arabic composed by Khalife: We Hope That Tonight It Will Snow, The Bell of the Night, I Am Praying for You, The Sleeping Baby, and Oh Jesus Who Is Coming, which sparkled the event and turned the auditorium into an atmosphere of unity and love.
Abou Naoum played two musical pieces, one by F. Chopin, Prelude Opus 128, No.4, and the other by J.S. Bach, Jesus, Joy of Man's Desiring. These were followed by six Christmas carols in English, also sung by Medawar: O Christmas Tree, Silent Night, White Christmas, Santa Claus, Merry Christmas Everyone, and Minuit Chretiens.
The performance was ended with two songs composed by Khalife, Jesus Is Born and Alleluia, the last song performed by Medawar as the audience applauded with vigor and appreciation.
Dean Hashwa closed the event by thanking all those who attended and helped organize the concert, wishing all a joyous and happy season. He said that, it is such events that bring people together — especially this magical night that united the LAU family.