Startups for social good
LAU student Omar Omran wins first prize at the New York University — Abu Dhabi International Hackathon for Social Good in the Arab World.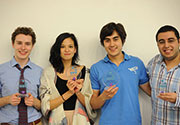 Omar Omran (right) and his teammates.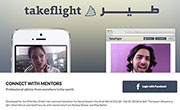 A screeshot of the takeflight application.
Click on any photo for larger version.
The Department of Computer Science and Mathematics proudly celebrates the success of one of its own, Omar Omran, who took home first prize at the second annual New York University — Abu Dhabi (NYUAD) International Hackathon for Social Good in the Arab World.
"This was one of the best experiences of my life," enthuses Omran. The three-day international event in the Emirati capital was organized by the Computer Science Department at NYUAD between February 21 and 25. More than 80 top international students eagerly worked in teams to create mobile and web applications designed to tackle real-world social issues in the Arab region. Omran was one of two Lebanese student representatives, the other being a student from AUB.
"For three days I did not sleep and for the first time in my life I drank coffee — sometimes four cups a day," he says laughingly.
"It was exciting to be awarded the first prize," says Omran, but he is quick to point out that the highlight of the experience was the innovative and exceptionally talented colleagues he was teamed with during the competition.
"I am so grateful to have had the opportunity to make such good friends and meet such inspiring people," he says.
Omran's winning team included Seth Thompson (Yale University), Alex Qin (New York University), and Geoffrey Litt (Yale University).
The students were given the unique opportunity to be advised by 30 mentors, who were highly renowned experts from Google, Microsoft, NASA and other technology heavyweights. Omran's group assigned mentors were Ramsey Nasser (fellow at the Eyebeam Art + Technology Center) and Max Stoller (Developer, Lerer Ventures).
The quartet innovatively devised an online platform called "takeflight" for cross-language video mentoring.
"takeflight" connects young students in the Arab region with mentors (both abroad and in Arab countries) who share their interests and can help them with professional development.
To achieve this, the application makes use of videoconferencing technology, where users can book virtual meetings to connect with others and can even request language translation assistance.
The users can also participate in video chat sessions using an iOS application. The interface allows users to log-in vis-à-vis Facebook and create a profile to denote preferred areas of skill development and specify particular areas of expertise that he/she has to offer other users of the application.
The panel of 22 judges hailed from UAE, Egypt, Kuwait, Lebanon, Qatar, KSA, Turkey and the United States and evaluated the 16 teams on the quality of their ideas, powers of persuasion, usability and sustainability.
"We are very proud of Omar and his commitment to excellence," says Dr. Samer Habre, chairperson of the Department of Computer Science and Mathematics. "This is something we try to cultivate among our students in the department," he adds.
"The reason I came to LAU is because of its reputation and because of the caliber of the computer science program," explains Omran.
"My three years at LAU were amazing and now I feel as though all the doors are open for me," he continues. The future looks quite promising for the ascendant computer programmer, as interested investors approached him and his team for possible future collaboration.
Like the application itself, Omran seems poised to take flight.