Stop underage marriage!
IWSAW and the National Commission for Lebanese Women launch from LAU Beirut a national campaign to Protect Underage Girls from Early Marriage.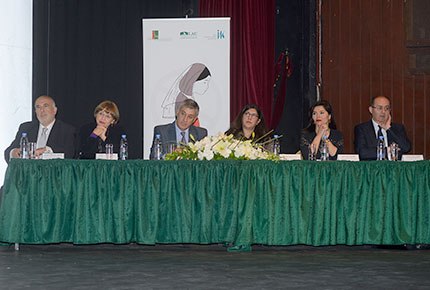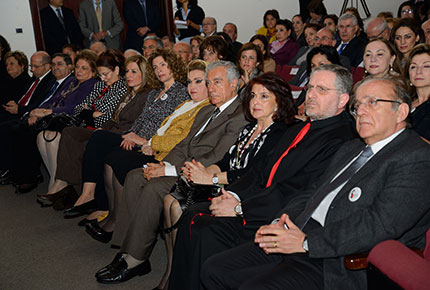 Irwin Auditorium at LAU Beirut was packed with activists, officials and socialites – with over one third of the audience being male – who gathered on March 4 for the launching of the Protect Underage Girls from Early Marriage campaign.
The university's Institute for Women's Studies in the Arab World (IWSAW) in collaboration with the National Commission for Lebanese Women (NCLW), under the patronage of First Lady Wafaa Suleiman organized the event on the occasion of International Women's Day.
"Early marriage robs underage girls of their childhood, their education and health," said LAU President Dr. Joseph G. Jabbra. "It has disastrous consequences on its primary victims, on their families and our society as a whole," he added.
"Sadly, girls and women are still largely discriminated against in our region … but no society can develop and flourish if its women's rights are oppressed," pointed out Dr. Samira Aghacy, director of IWSAW. "We are very proud to be part of such a crucial initiative," she added.
The campaign comes at a time when several cases of early marriage and kidnappings have been widely covered in the media.
Secretary-General of NCLW Fadi Karam highlighted the paradoxes of the Lebanese legislation that permits girls under 18 to enter a marriage but not to drive, vote or sign contracts. "There should be a law that bans early marriage or that at least includes safeguards to guarantee the underage girl is physically, emotionally and socially ready to enter marriage, and that it is with her total consent."
According to a joint press-release issued last year by UN, international and non-governmental organizations, if the current levels of child marriages hold, 14.2 million girls annually or 39,000 daily will marry too young. The text posits that married underage girls are more vulnerable to intimate partner violence and sexual abuse than those who marry later in life. UNICEF estimates that of the 16 million adolescent girls who give birth every year, some 50,000 die.
Activist Zoya Rouhana, head of NGO KAFA, qualified early marriage as one of the most appalling violations perpetrated against young girls, and shed light on the situation of young female Syrian refugees. "They are being literally sold under the cover of religious marriage," she said.
The speakers largely criticized the role of the clergy in child and early marriage. Judge Arlette Tabet highlighted the complexity brought by the personal status laws and their ramification to those stipulated by the different sects in Lebanon. "This situation is extremely dangerous and covers up for acts of kidnapping, human trafficking, prostitution, rape and other forms of abuse," she declared before enumerating a series of cases that she has dealt with. Her colleague Fawzi Khamees, who made jurisprudence in two of the cases, called on those who knew of any violation of underage girls' rights to inform the Juvenile Court..
Awareness of the dangers of early marriage, often accompanied by coercive practices, needs to reach the depth of the poorest components of society who are more likely to suffer from girls' early marriage, said NCLW Vice-President Randa Berri, speaking on behalf of NCLW President Wafaa Suleiman. "I hope this national campaign will achieve its objectives and preserve the dignity of the children and women of my country, as well as the well-being of our society and its civilizational influence," she added.
The campaign is composed of four core elements that start with striving to issue a law that bans child and early marriage or that includes minimum safeguards. The second objective is to start a lobbying campaign for Lebanon to ratify the international Convention on Consent to Marriage, Minimum Age for Marriage and Registration of Marriages. The initiative also aims towards tightening penalties against abusive husbands and at continuing the fight to pass a law against domestic violence.
"I will die before I let my daughter get married earlier than 25," a young victim of early marriage said in a film prepared by the NCLW and IWSAW. If the audience had any vestige of doubt, it was blown away.