Strangers in the West
Author and archeologist Linda Jacobs presents her book in which she depicts the 1880-1900 Syrian immigration to the U.S.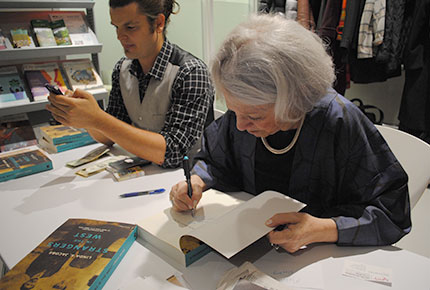 While politicians in the United States debated whether to take in 10,000 Syrian refugees, LAU NY hosted a lecture and book signing with author and archeologist Linda K. Jacobs, who spoke about some of the earliest Syrian immigrants to "The Land of Opportunity." Their story is detailed over the 400-plus pages of her new book, "Strangers in the West: The Syrian Colony of New York City, 1880-1900."
The immigrants came from what was then known as Greater Syria, and lived in tenements in Lower Manhattan. Jacobs described how they had arrived equipped with little more than business acumen, and built a thriving colony that became the cultural and economic center of the Syrian diaspora in America.
The granddaughter of Syrian emigrants from different parts of what is now Lebanon, Jacobs' quest started with research into her family's past. She interweaves their journey with historical data to explore the lives of Syrians in the U.S. during the latter part of the 19th century.
"When I began four years ago, it was simply to do a genealogy of the family, understand the relationships and business activities of my relatives," she said. "I was shocked to learn that no one had investigated the Manhattan colony … It became my mission to reconstruct it by discovering every Syrian who had ever lived in New York before 1900. I did that, one name at a time."
Her book presents a vivid portrait of this early community; one that was made up of peddlers and merchants, midwives and doctors, priests and journalists, performers and impresarios, who became an important thread in the rich tapestry of the immigrant culture of 19th-century New York.
In telling the story of her grandfathers, Jacobs said she wanted to dismiss the myth that all immigrants were successful. While one grandfather built a thriving textile business, the other died penniless and in debt.
Jennifer Batri, a New Yorker of Syrian heritage who attended the lecture, remarked that knowing about the early Syrian immigrants would not necessarily reassure opponents of Syrian emigration into the U.S. today, as their circumstances and religious beliefs differed. "The past wave is not reflective of the future wave and cannot guarantee a similarly successful integration process," she said.
While almost all the immigrants in Jacobs' book were Christian, on December 9, the day the lecture took place, an article was published in the New York Times, revealing that Muslims not only lived in the Syrian colony, but worshiped there, too.
"An understanding that Arab immigration has a long history in New York will help people see Arab-Americans as one of many immigrant groups that have contributed to our culture, economy and peoplehood," said Dr. Vinton Thompson, president of the Metropolitan College of New York, who also attended the lecture.
"We are investigating the possibility of enrolling Syrian refugee students," he added, saying that it would be a "wonderful turn of history to bring Syrian refugees to study in the same neighborhood that first welcomed large numbers of Arab immigrants to the United States."