Strength in the Feminine: Connecting Women with their Inner Power
American activist Manal Omar talks to students about inclusivity, pluralism and helping women understand their needs.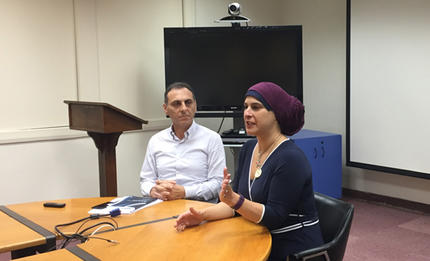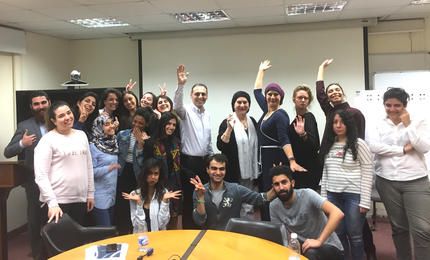 Knowing ourselves and respecting others brings us power as women. That is one of the messages U.S.-based Palestinian activist and author Manal Omar conveyed to her audience during her graduate seminar "Middle Eastern Topics on Pluralism and Inclusive State," held on LAU's Beirut campus on November 10. Omar, former associate vice president for the United States Institute for Peace (USIP), is also founder and CEO of Crossing Red Lines, an organization that seeks to empower female leaders by helping them understand their sexual energy within an Islamic framework.
Sponsored by the Institute for Social Justice and Conflict Resolution, the talk aimed to bring students "a gender perspective on inclusion provided by a distinguished expert and practitioner," said Imad Salamey, associate professor of Political Science and International Affairs and associate chair at the Department of Social Sciences.
Omar said that the goal of her talk "is to get women back to their own intuition and discernment. We have built in our bodies great intuition, and we are taught to override it with strategy."
"It's like breaking that barrier," she added. "When you are not afraid to be strong, but also recognize that there is a lot of strength in the feminine."
The attendees from diverse backgrounds, like Omar, included women from Yemen, Syria, Bahrain and Lebanon, and were asked to use their experiences in their home countries to understand how, as future researchers and activists, they can make a difference at the grassroots level.
Participant involvement was high. "When you try to talk to women about their rights and they themselves do not accept that they actually have rights, how do you motivate them?" asked participant Mona Saeed, who comes from Yemen.
Omar advised Saeed to look beyond the obvious and to dig deeper for a reason that is holding those women back. "Human beings are wired for self-protection," she explained. "Help them see that they are in a place of safety." Furthermore, Omar pointed out that people in conflict are usually more concerned about having food on the table than pursuing their rights.
At one point, the discussion veered toward the shifting relationship between citizens and states. "This is significant for pluralism and diversity, because when people don't trust their government they go sub-culture, sub-identity. They turn to their community for protection," Omar said. As a result, multiple identities begin to emerge and "become really powerful, and they start demanding representation."
Omar believes part of the solution is pursuing full inclusivity and diversity. She called for a social contract that everyone can agree to. "The framework is not important; it really is about how we live and operate together that is important, whether it is within an Islamic or secular framework."
The Middle East region, she noted, has never been limited to a single ethnicity or religion — "This is the cradle of civilization," she reminded the audience.
For Lebanon, she advocated a "more value-based, rather than sectarian-based, social contract that can feed into the national dialogue process."
Among other ideas discussed was whether the presence of women in parliament or government necessarily meant the advancement of women's rights. In response, first-year graduate student Maya Fawwaz, who works with a campaign called "Not the Cost" to support women, asked, "How do you work on empowering women to include them more in politics?"
"Quota is not the final solution," Omar said. "A lot of times, organizations get so focused on training parliamentarians for the quota that they don't necessarily look at the women's rights angle."
Although seeing a woman in a powerful position sends a positive message to young women, it is just as important to have dedicated and passionate "women's rights defenders — and that is not only women, it can be men as well, and that training is different."
Omar said her work focuses on getting women who are already parliamentarians or NGO directors to the next level of leadership through exercises that help them understand their needs and concerns as well as those of women in general.