Student films capture audience
Six final-year LAU students premiered their short films on a range of issues, from drug abuse and death, to a satirical critique of Lebanon's media industry.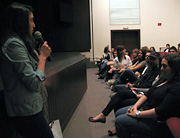 Wafa'a Halawi, the students' academic supervisor and organizer of the 2011 LAU Film Screening, welcomes audience members. The student filmmakers are seated in the front row.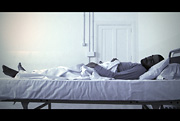 A still of Brahim Badran's film, Perso, depicting the main character who falls asleep and finds himself in a vivid hallucination, unable to differentiate between reality and imagination.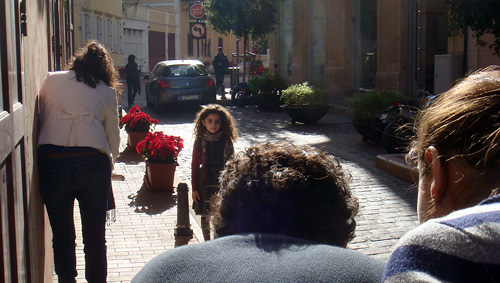 Director Pia Haddad and director of photography Nancy Iskander (behind the camera) shooting a scene from Balloon, the story of a little girl who wants her dad, who had fought with and left her mom, to come back.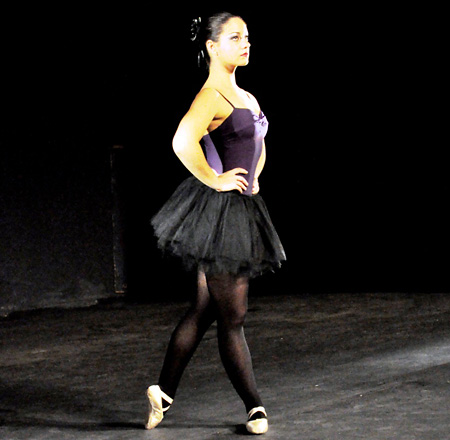 A still of Tara Bassim's film, Love's Decoy, showing the wife of a jealous doctor during her ballet practice.
Click on any photo above to view all four images.
Six final-year LAU communication arts students premiered their short films before a packed crowd of movie enthusiasts February 24 at LAU Beirut's Irwin Hall Theatre, forcing jolts of laughter, shock and agony from the audience during the 2011 LAU Film Screening.
The 10-15-minute original productions tackled a wide range of issues from drug abuse and death, to a satirical critique of Lebanon's media industry.
"They were very dedicated to their work," says Wafa'a Halawi, the academic supervisor and organizer of the film screening. "It's important for them to gain experience showcasing their work before they go out into the field."
Tara Bassim's film, Love's Decoy, tells the story of a young married couple — a jealous doctor and his obliging wife who has breakfast waiting for him each morning. After the husband leaves for work one day, the woman, who is forbidden to work, goes to her ballet practice and is later struck dead by a car.
"The husband killed her indirectly through his jealousy," Bassim says, explaining what she views as a societal ill that places higher expectations on men to pursue important careers while the women merely serve as their caretakers.
Another student, Brahim Badran, explores concepts of reality and imagination. In his film, Perso, a lawyer defends a client accused of murdering his wife. But when the lawyer goes to sleep, he finds himself in a psychiatric ward and discovers he is the murderer.
"Where do you draw the line between reality and hallucination?" Badran asks. "Since I was a little kid, I always used to think about what's reality and what's not. Am I Bob [Brahim], or am I someone else?" he says, explaining how he developed the idea for the film.
The mood was sometimes tense and uncomfortable inside the theater. Some audience members covered their faces or looked away during a scene of Taht El Te'sir (Under the Influence), produced by Chantal Harmouche, when a young man who had overdosed on heroin was sawed into pieces by his friends, sneaked out of a home in garbage bags, and thrown into the sea to cover up his untimely death.
Student Nada Ammous provided some needed comic relief with Téléphone Cassé while still succeeding in sending a serious message. The film's main character, a young university student, sends an email jokingly forewarning her friend to "stay out of the city" because of an explosion in Beirut.
She soon finds herself being interrogated in a police station by an overzealous cop and his scribe who passes sexually suggestive facial expressions, prompting roars of laughter from the audience. Outside the police station, TV crews produce sensationalized stories of the alleged terrorist, conducting interviews with her classmates who express shock to learn about the double life she was leading.
Mahmoud Rida's film, Layli, was based on the experiences of a man who had been a criminal since his childhood, but later in life decides to change his habits. As an adult, the reformed character confronts his childhood self and in the final scene shoots him in an act open to interpretation.
"I made this film because of my interests in the psychological aspects of human beings," he says, explaining that the character speaks not through words, but rather through his actions and expressions.
Balloon by Pia Haddad was the last film screened, featuring a child whose father leaves the family after fighting with the mother. As the mother fills out divorce papers, the child writes a letter to her father, determined to make him return, and sends it to him by balloon.
"It's a comparison of adults and children, of how they think, how the mother so easily gave up and divorced her husband, whereas the little girl remained hopeful," Haddad explains.
The films were produced as part of Halawi's fall 2010 Film Making course, and will be submitted to local and international film festivals — a course requirement. "This is how they get noticed," Halawi says.
Two second-year students in Halawi's Art of Film course also screened their three-minute films during the event, Requies Aaterna by Zeinab Khadra, and Blind Beauty by Mariam Nabbout.