Student wins recognition for paper on decentralization
Tamara Farhat, an LAU political science student, receives second place at a national competition for her paper on decentralization in Lebanon.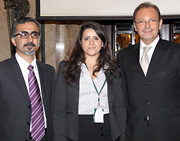 LAU student Tamara Farhat with Dr. Nashat Mansour (left), assistant dean of the School of Arts and Sciences at LAU Beirut, and Nabil Soubra, president of the Municipal Development Association that sponsored the paper competition where Farhat won second place.
Second-year LAU student Tamara Farhat won second place at the Municipalities and Administrative Decentralization Competition last month, for her paper titled "Administrative Decentralization in Lebanon."
"The paper discussed the definition of administrative decentralization — how we can apply it in Lebanon, whether it goes with or against municipal work, if it's beneficial and good for local development, and how it differs from deconcentration," says Farhat, a political science and international affairs major.
Decentralization means that local communities and municipalities take on major independent decisions regarding their own affairs, such as constructing new roads and schools, developing agricultural or irrigation projects, building new theaters or museums, etc., explains Dr. Imad Salamey, LAU assistant professor of political science and international affairs, who mentored Farhat during the project.
"I thought Farhat's paper was great particularly because she addressed ways to decentralize and empower local community development without jeopardizing national unity," Salamey says.
After Salamey first heard about the paper competition, he announced it to the students taking his Lebanese Politics and Administration course, thinking it was a great opportunity for them to participate. Farhat enthusiastically inquired about the details and discussed ideas with him, says Salamey.
Although many of his students have won various awards in the past, this was the first paper contest on decentralization that one of Salamey's students participated in.
"This was a great initiative that encourages students to become active learners and citizens in their own communities," Salamey says.
Students representing 14 universities entered the competition, which was sponsored by the Municipal Development Association, a non-profit organization that performs studies and research on economic, social and administrative infrastructure in Lebanon and other Arab countries.
Farhat received her award during a ceremony at the Phoenicia InterContinental Hotel in Beirut, on December 11, 2010. The event was attended by ministers, members of Parliament, and around 150 presidents of municipalities. Dr. Nashat Mansour, assistant dean of the School of Arts and Sciences at LAU Beirut, was also present from LAU.
Farhat hopes to pursue a career in international affairs when she graduates. "I have a dream to work with the UN and I would also like to work in any ministry or the Parliament," she explains.