Students and graduates practice design citizenship at LAU
Former LAU instructor Nathalie Fallaha hosts workshop during Beirut Design Week.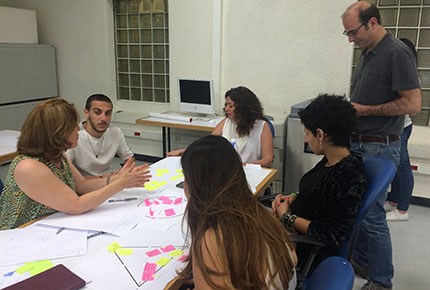 "I have a personal endeavor towards giving back (to society) as an individual," says Nathalie Fallaha, explaining her motivation behind hosting a workshop on design citizenship at LAU during Beirut Design Week. Fallaha, founder of design firm vit-e and former LAU instructor, held the workshop in Nicole Hall. "This is where I taught my graphic design classes, so I knew I'd feel comfortable here."
The workshop began with an introduction to socially motivated design initiatives worldwide, which was followed by a presentation outlining the underlying concept and process. "As designers, I believe we have a bigger leverage on thinking and conceptualizing different ways to give back and to contribute to social issues around us, without any commercial drive," commented Fallaha on the relationship between social awareness and design.
Fashion design student Carla Khayat — one of the 22 trainees who attended the four-hour workshop — agrees that a strong connection exists between design and development. "If I work on design without thinking about the social side, then my design has no use," she says. "If I think only of a social side without design, I won't improve anything." Khayat believes that Fallaha's description of the process of identifying problems and proposing solutions will ultimately be very useful to her when she graduates and enters the market.
At the workshop, Khayat and her fellow trainees were able to put the theory into practice by working in groups to methodically develop designed initiatives to tackle a social problem of interest to them. Graphic design graduates Eliane Jabr and Maya Meree worked together to develop a plan to combat what they saw as a lack of engagement among youth using the Lebanese dialect.
"I was attracted by the title of the workshop but didn't know what to expect," says Jabr. "When Nathalie asked us to tackle a social issue dear to us, I proposed the increasing prevalence of foreign language in daily speech and enjoyed developing a plan with Maya." Their proposal included the development and online dissemination of engaging stories told in the Lebanese dialect. Having first met at the workshop, the two graduates intend to stay in touch and develop their plan further.
"This was a good opportunity to meet other students in the field and interact," agrees graphic design student Sara Takoush, whose group looked at ways to encourage upcycling in Lebanon. They considered the development of an online forum on which people could list disused items with a view to having them collected by others with a need for them. During her presentation of the concept to the class, Takoush explained that the forum would be complemented by events offline. "We produced a lot in a short period of time that feeds into what we may achieve later. It has a strong ripple effect."