Students and university win big at Dubai Lynx awards
The importance given to conceptual thinking in the program is behind the success of graphic design students, professor says.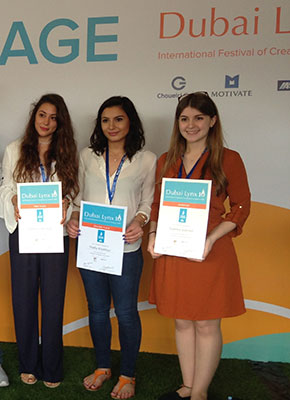 LAU graphic design students Chelsea Abi Saab and Nadia Khabbaz were in the Emirates last week to attend the Dubai Lynx awards and pick up first and second prizes respectively for the du student integrated award.
The region's most prominent international advertising festival, Dubai Lynx was this year celebrating its tenth anniversary and the third anniversary of the du student integrated award, which invites students to create a unique integrated campaign using at least three forms of media – print, outdoor and TV, for example.
As LAU students made up over half those shortlisted for the award this year, the special award for best university of the year was bestowed upon LAU. "It's wonderful for the university, the department and the students," says Melissa Plourde Khoury, associate chair of the Department of Design, who collected the award in Dubai on behalf of the institution.
"We instill a lot of conceptual thinking in our programs as part of our mission. Our students don't just create visually oriented designs but are creative conceptual thinkers," says Plourde Khoury, explaining the ethos that contributed to the overwhelming success of her students. "They don't realize that they can actually win. It never ceases to amaze me how skeptical students can be," she adds.
Senior student Abi Saab certainly did not expect to win when she submitted her entry, 'Life Is Not Always a Game', to Dubai Lynx in December. "We all worked on the brief during our advertising design class and all the students produced great work. I sent off my submission and forgot about it," recalls Abi Saab, who attended the festival alongside hundreds of advertising professionals and executives.
"It was a great opportunity and I certainly intend to apply to competitions more often now. I would advise all students to do the same. It improved my self-confidence and gave me the opportunity to meet others in the field, and it's a great accolade to add to my CV," adds the soon-to-be-graduate, who credits course instructor Joumana Ibrahim for enabling and encouraging her to apply and succeed.
"The faculty play a strong role as motivators and facilitators," concurs Plourde Khoury. "The students have the capacity and know-how, but the commitment of the faculty makes it happen. Joumana was supporting her students in every aspect of the project and its application up until the moment they sent off their entries."