Students engage in discussion about transformative justice
Women working with prisoners speak about the importance and impact of their initiatives and inspire students to do the same.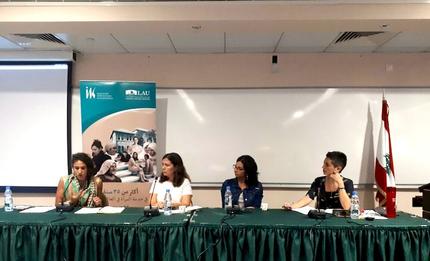 Four successful women dedicated to bettering the world they live in sat side by side at the Beirut campus on Tuesday to discuss their work with a roomful of eager students during a talk organized by LAU's Institute for Women's Studies in the Arab World (IWSAW).
The first of them, IWSAW Director Lina Abirafeh, welcomed three guest speakers and moderated a lively Q&A session that followed brief introductions by the women about their work and experience in the field of restorative and transformative justice.
"This talk, and our Food 4 Thought series in general, provide a platform to showcase ordinary women who have done extraordinary things. None of our three speakers necessarily set out to change the world, but they felt committed to an issue, and compelled to do something about it. That's inspiring and contagious," explains Abirafeh.
Drama therapist and director Zeina Daccache spoke about her work with inmates at Roumieh and Baabda prisons. "I didn't think about changing policy when I first asked to be allowed to run art therapy workshops at Roumieh," recalled Daccache, whose workshops later resulted in staged theatrical performances by inmates that tackled unjust laws and societal misconceptions. "Our work at the women's prison, helping the inmates express themselves through theatre and documenting that journey, helped push through the domestic violence law," she added.
Similarly, co-founder of the SKOUN center Nadya Mikdashi explained that they too did not intend to work on advocacy when they founded the therapeutic facility for drug users in 2003. "Evidence shows that policing does not reduce drug use, but 3,500 people were arrested in Lebanon last year for using drugs," said Mikdashi. A lively discussion followed during which students complained about the hypocrisy of a state that punishes drug users instead of helping them but also appears to turn a blind eye to drug producers and distributors.
While SKOUN's work focuses on Hobeish police station in Hamra, singer and socialist activist Naima Shalhoub often visits the San Francisco County Women's Jail, where she has been facilitating weekly music sessions since 2014. Societal constraints and the restrictive definition of what is normal, said Shalhoub, "causes internal struggles for many of us." While studying post-colonial anthropology, the singer realized and recognized the power of the forbidden, and found herself inspired by the activists whose words and ideas she was studying. "I stayed silent for so many years, carrying so much shame and guilt."
Shalhoub recently joined forces with Daccache to work with prisoners at Roumieh prison where they wrote a blues song together. On Tuesday, she treated the students to a rendition of Rise, a song from her album 'Live in San Francisco County Jail'.
"Sometimes when you find your own voice and use it in the service of others, you end up giving voice to something that needed to be exposed, shared and addressed," said Abirafeh, delighted with the impact of and engagement at the event. "In that way, we can all be activists and pioneers."
This talk was part of a series hosted by IWSAW entitled "Food4Thought." Follow the Institute's Facebook page to stay abreast of their activities and initiatives.