Students gather at LAU for national speech competition
Students from seven Lebanese universities present short speeches on the theme of "Words Are Not Enough."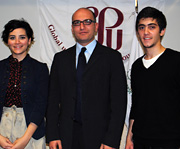 The winners of the 11th Annual National Speech Competition held at LAU, Omar Belman of AUB and Tatiana Toutikian of ALBA, with one of the judges, Zaven Kouyoumdjian, a well-known Lebanese talk show host and LAU alumnus.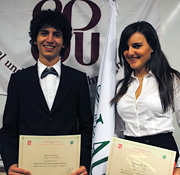 LAU students Ranil Kaed Bey and Joseph Rizkallah holding their certificates of participation.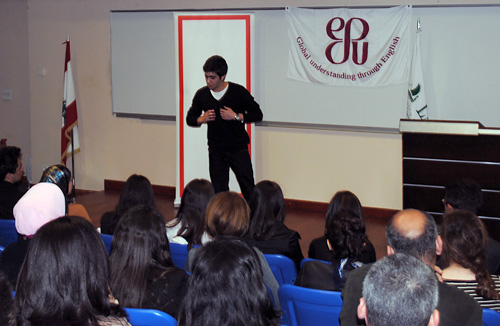 Belman delivering his speech.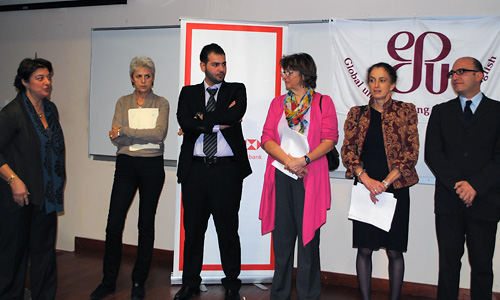 Youmna Asseily (1st from left), chairperson of the English Speaking Union in Lebanon, with the five jury members.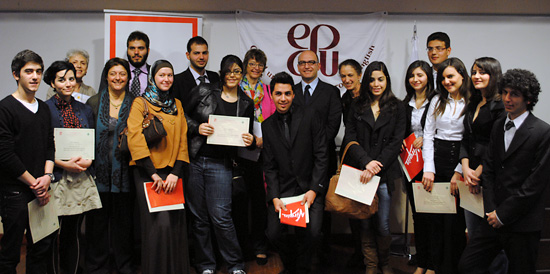 The judges with the participants after the distribution of certificates.
Click on any photo above to view all five images.
For the second year in a row, LAU hosted the 11th Annual National Speech Competition on March 12, where 13 students from a number of Lebanese universities presented speeches revolving around the theme of "Words Are Not Enough."
The event, which was organized by LAU's Department of Humanities and the English Speaking Union in Lebanon, drew a full house, with participants' families, friends and professors present in LAU Beirut's Business Building to support them.
Omar Belman (American University of Beirut) and Tatiana Toutikian (Académie Libanaise des Beaux-Arts) were selected as the winners by a panel of five judges consisting of Frances Guy, British ambassador to Lebanon; Zaven Kouyoumdjian, a well-known Lebanese talk show host and LAU alumnus; Maureen Ali, vice president of ESU in Lebanon; Barbara Hewitt, director of the British Council-Lebanon; and Moataz Al Izrawi, a Lebanese student who won last year's ESU International Public Speaking Competition finals held in London.
Belman's "The Power of One" argued that change beginning with the individual can spread quickly to the family and finally through society at large. "It only takes one to change the world," said Belman, pacing the stage.
Toutikian delivered her speech, "Rhyming in Silence," with energy and humor. She described in personal terms having discovered the value of holding her tongue. "Maybe we should all stop being tellers and start listening more," she concluded. "We might find a jewel in silence, gaining something we didn't think we had."
Contestants included two LAU students, Ranil Kaed Bey and Joseph Rizkallah.
The latter's playful and amusing "Words on a Bathroom Door," which described being moved to reflection by idle or even absurd bits of graffiti on bathroom walls, was a crowd favorite. Kouyoumdjian praised his light touch but said that his speech lost focus at points.
Kouyoumdjian lauded the contestants for their poise and presence. "I know that the mere act of standing on stage is not easy. They were courageous," he added, stressing that all were gifted and showed evident passion.
The British ambassador presented the winners with their prizes, and all participants with certificates as well as complimentary gifts. She suggested that the champions continue polishing the content of their speeches in order to compete viably and confidently in the international finals.
Universities represented were LAU, AUB, University of Balamand, Université Saint-Joseph, Hariri Canadian University, Lebanese International University, ALBA, and Antonine University.
The event was sponsored by the HSBC Global Education Trust.