Students get employment tips from a top career coach
Expert career coach teaches Byblos students how to wow future employers.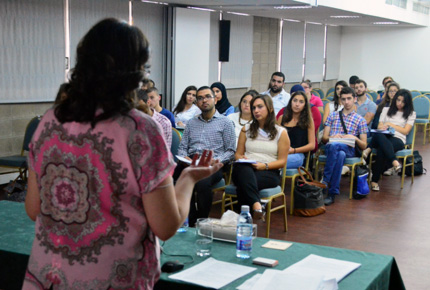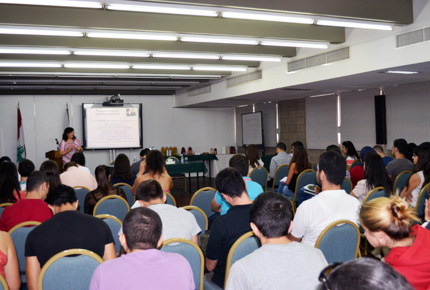 "They need to know who you are, and why you would be a good fit for them. Always keep your audience in mind," says expert career coach Roula Mouhanna, founder and manager of Career Counseling and Coaching Ltd. One of the biggest mistakes she sees in resumes and CVs are skills being advertised that are of no use to potential employers. "Voicing your fondness for traveling is useful if you are applying to be a pilot," she says, "not to work in a bank."
The Career Guidance Office at LAU Byblos invited Mouhanna to speak to the students about what really counts in the job search.
Even before meeting with your potential employers, there are many opportunities to either impress them, Mouhanna points out. A neat CV with relevant information will go a long way, while one filled with flashy fonts and typing mistakes will most likely end up pushed away. "Your CV is the first impression that you make," she emphasizes, "and employers are looking for the slightest reasons to disregard applications. Your best chance is not to give them an excuse to discount you."
When it comes to the interview, Mouhanna's advice is to prepare, be punctual, dress appropriately, and to be yourself. This face-to-face discussion is where opinions will be formed, and it is important that both parties walk out impressed, and feeling confident that this position would be a good fit for the applicant.
Employers often focus on whether applicants have held part-time or summer jobs, and see this as a good indication of a person's dedication, mastery of the field and general temperament. "These jobs and internships are helpful for students, giving them a taste of the various concentrations and practical aspects of their chosen field, and also for employers, who welcome expertise and the opportunity for multidisciplinary approaches from their employees."
The presentation also shed light on the importance of student attendance and participation in university seminars and activities. A multitude of on-campus activities and opportunities are available, especially through the Outreach and Civic Engagement unit, and the skills – communication, leadership and emotional intelligence among others – learned from these events are essential for their future careers. Mouhanna commented on how these soft skills give students the extra push, and give them experiences that set them apart from others.
"We are always on the lookout, updating ourselves and using cutting edge techniques and resources to help the students and give them the best chances possible after graduation," says Lead Career Guidance Officer Rana Sakr,
Marketing student Elsy Bejjani walked out of the seminar with a big smile on her face, saying "I can't wait to rewrite my resume now – everything she discussed made so much sense! Thinking like an employer makes all the difference."