Students given chance to shine in LAU's leadership development program
Six students from across the region have been given scholarships to take part in a program designed to unlock their natural talents.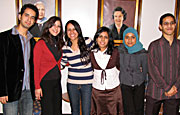 "Tomorrow's Leaders": The six students enrolled at LAU.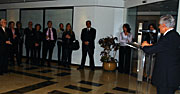 LAU President Joseph Jabbra speaking at the inaugural reception of the Tomorrow's Leaders Scholarship Program.
Young people from across the Middle East and North Africa are being given the opportunity to fulfill their leadership potential by taking part in a pioneering scholarship scheme hosted at LAU.

The Tomorrow's Leaders program offers grants to students who show outstanding leadership skills but may otherwise miss out on the chance to study in an American education system.

Funded by the U.S. State Department's Middle East Partnership Initiative, in collaboration with LAU's University Enterprise Office, the program seeks to develop the students as rounded characters ready to take on the challenges facing their countries when they return.  

Six students from Egypt, Yemen and Palestine received the scholarships for a full degree program, and have been studying at LAU's Byblos campus since they arrived in September 2008.

UEO staff plan to enroll at least 35 participants within three years. In line with the university's historic commitment to advancing the position of women in the region, two-thirds of the selected students will be female.

In addition to taking the university classes expected of other LAU students, the Tomorrow's Leaders cohort will undertake an intensive program of internships, visits and seminars aimed at unlocking their leadership abilities.

"This region is begging for strong and visionary leaders, begging for leaders who are doers, for leaders who can measure up to the challenges of the 21st century so that the change that is going on through this region will be a change for the better," said LAU President Joseph Jabbra at the reception held on January 29 to officially launch the program.

Dr. Walid Touma, UEO director and program coordinator, said that its aim was not to create leaders, but to allow those with innate leadership potential to use it constructively in their communities.

"I don't believe you can make a leader out of any human being," Touma said. "Leadership is born. It's in your genes. What it is you want to do with a leadership gene is drive it with experience," he added.

He said that the benefits of this long-term project would be felt in the future, when the currently enrolled students reach positions of power.

"I want to be a leader…I want to do something big to help my country be better," said Ahmed Saleh, 18, from Egypt. "Not only my country, but all the Arab countries," he added.

Aseel Baidoun, 18, from Palestine, said that the program had given her new confidence and inspired her with hope for the future. "I will get back to my country and maybe make a change," she said.

LAU is one of three universities in the region that are taking part in the program. The American University of Beirut and the American University in Cairo are also offering the scholarships.

The project is the second leadership program developed recently by LAU in partnership with MEPI. In late September 2008, the university received a $500,000 grant for a separate initiative aimed at empowering women's rights advocates in the Gulf.