When students learn the art of diplomacy and much more
LAU student trainers gain a competitive edge through their involvement in the Outreach and Civic Engagement unit's simulation programs.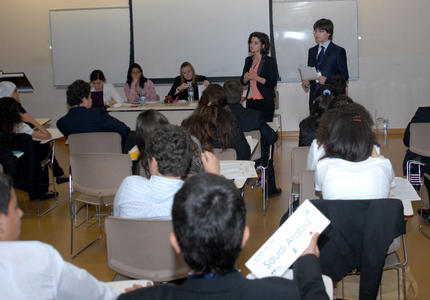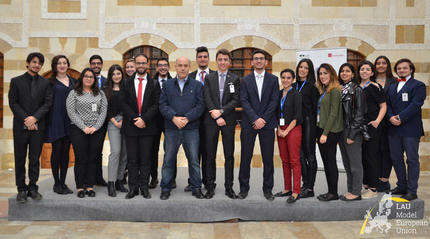 "As a communications professional, I can say that my ability to communicate is a skill and a passion that was directly passed on to me through the MUN," says alumna Joelle Eid, who joined the LAU Model United Nations training program during her first semester of university and eventually became Secretary General of the Middle School MUN program. Since graduating from LAU with a B.A. in Political Science/International Affairs in 2010, Eid has acted as a spokesperson on the Syria crisis for both the UNHCR and the World Food Programme. "The ability to tell the story of millions of people living through conflict to a global audience comes from having done so within the four walls of a model UN classroom at LAU."
The university's involvement in MUN simulations both in Lebanon and abroad has grown steadily over the years, peaking in 2015 when the university was asked to spearhead the annual United Nations Global Classrooms International Model UN conferences in New York.
Under the auspices of the Outreach and Civic Engagement (OCE) unit, LAU student leaders manage Lebanon's Global Classrooms Model United Nations program (GC LAU MUN), training thousands of middle and high-school students in the inner workings of the global forum.
They also lead internationally renowned youth leadership programs on the regional level with the LAU Model Arab League (LAU MAL)—undertaken in partnership with the Hariri Foundation for Sustainable Human Development (HFSHD)—by engaging Lebanese high-school students in an exploration of pivotal issues in the Arab world.
A third such program was recently added with the first annual high-school Model European Union (MEU) launched by the OCE last October, and which provides training sessions in the history, functions and politics of the European bloc to high-school students from all over Lebanon. Organized in partnership with the HFSHD and Bringing Europeans Together Association, the program culminated in a final conference hosted at LAU Byblos that gathered more than 300 delegates and student secretariat.
"LAU students were extremely professional and well prepared throughout the months leading up to the conference," says Kristjan Kalve, concept and partnerships officer at Bringing Europeans Together Association e.V. "I can certainly say that such a group of people would be a tremendous asset to any MEU in Lebanon or elsewhere."
While such programs are successfully providing youngsters with leadership skills, diplomacy, and a better understanding of the world we live in, they also benefit LAU students carrying out the trainings. "In running these programs, the students acquire valuable expertise in conference management, training and educational development, public information, public relations, and logistics and administration," emphasizes Assistant Vice President for Outreach and Civic Engagement Elie Samia. "These invaluable skills certainly strengthen the students' professional experience."
Samia notes that over the years approximately 2000 LAU student leaders have "received extensive training in how to run three mega simulation models" under the supervision of the OCE. "It's an unmatchable professional experience for our students, building their character, teaching them how to work under pressure and the meaning of teamwork, deadlines, deliverables and accountability."
According to Youssef Taher, a third-year banking and finance major who served this year as Secretary General of LAU MAL, the task of managing a team of 120 student leaders helped him hone such skills. More than that, "the leadership skills I gained from this program are something that I cannot find somewhere else; companies are always impressed when they hear the story of the Model Arab League."
Case in point, international student Alexander Muller's involvement with LAU MEU led directly to an internship with the U.S. Congress. "The interviewer was extremely intrigued to learn more about the program and my role in it," says the third-year international business major, who served as Director General of the first LAU MEU. "Even when I was asked unrelated questions, it was always easy to respond with an example and experience from my time at MEU."
As for the youngsters trained by LAU students through the simulation programs, the benefits they receive include invaluable soft skills, ranging from training in leadership, diplomacy and conflict resolution to an unmatched international experience interacting with peers from all over the globe. In addition, highly achieving trainees are eligible themselves for scholarships to attend LAU.