Students raise funds for Haiti disaster
Four student clubs set up donation boxes on the Beirut campus to raise money for victims of Haiti's earthquake.

A student donates money for Haiti disaster victims.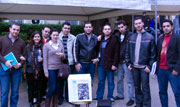 Members of the UNESCO Club and other students near a donation box at the upper gate.
Joining international efforts to help the victims of this month's massive earthquake in Haiti, four LAU Beirut student clubs, in coordination with the Guidance Office, placed donation boxes at all gates on campus, collecting cash donations from passers-by on January 21.
Many members of the UNESCO, Social Work, Red Cross and Event Organization clubs involved in the fundraiser said it was a way for them personally and collectively as Lebanese to give back to the international community that has assisted Lebanon in the past during hard times.
Joan Kharma, president of the Event Organization Club, says, "Lebanon needed help before and got help, and it's our time to contribute."
Students, as well as faculty and staff, contributed to the campaign.
The total amount raised is to be sent to Haiti via the United Nations Development Programme.
Emphasizing that even a small amount would facilitate conditions, Rami Ghazale of the UNESCO Club says, "We should do something, even though it's not much."
The program coordinator at Beirut's Guidance Office, Riman Jurdak, says, "People should unite in such catastrophes … It could happen to anyone. We're just telling them we're there for them."
The Dean of Students in Beirut, Dr. Tarek Na'was, says it was the students who came up with a proposal for fundraising immediately after the disaster struck.
"It was not only [the students'] social commitment, their compassion or their commitment to human causes that made this activity a success, but their sense of responsibility and leadership skills that prevailed," he adds.
Both LAU campuses are currently working on other ways to help Haiti.