Students say "no" to violence against women
Several activities are organized as part of the White Ribbon Campaign to combat domestic abuse and other forms of violence against women.

One of the many white cardboard cutouts stationed around LAU's Beirut campus in the lead-up to the White Ribbon Campaign to combat violence against women.

Students form a human chain using white ribbons from the Upper to the Lower Gate to show their support for the anti-violence campaign.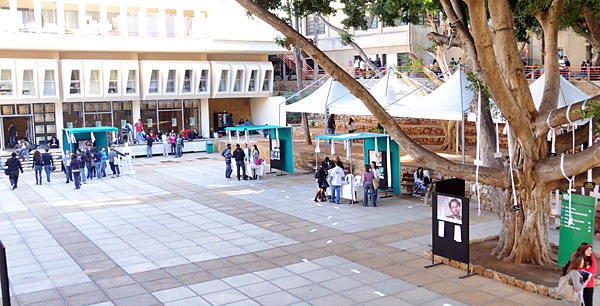 Students check out the booths and posters around the campus, which was transformed for the White Ribbon Campaign on December 8.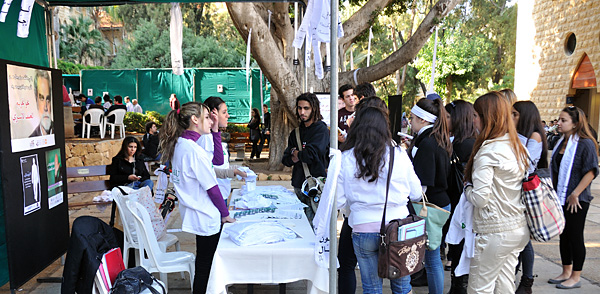 Students get information about the campaign from one of the booths.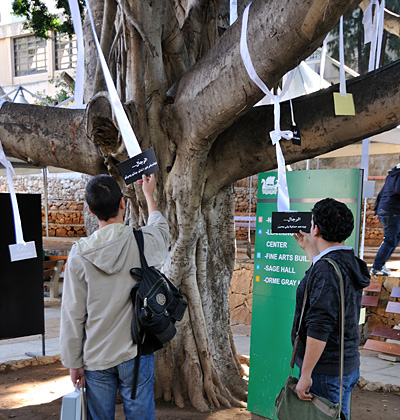 Students read definitions of what it means to be a "real man" from placards attached to white ribbons.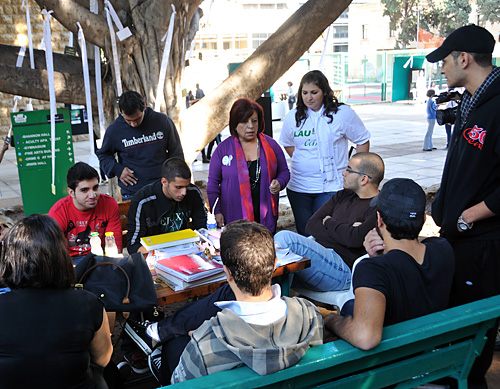 abbr title='Institute for Women's Studies in the Arab World'>IWSAW Assistant Director Anita Nassar (standing, 2nd from left) speaks with a group of students about combating violence against women.

Students sign a petition to the Lebanese Parliament to pass a law that will protect women against domestic abuse and other forms of violence.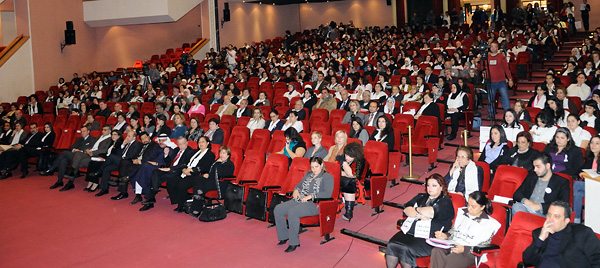 Hundreds gathered at UNESCO Palace in Beirut on December 10 for the closing ceremony of the national 16-day campaign of activism to combat violence against women.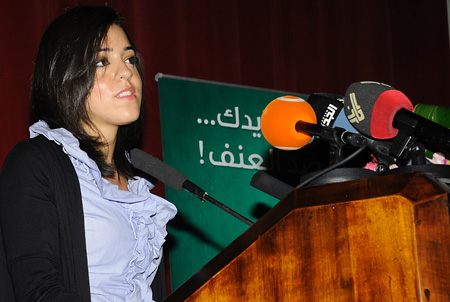 Marita Kassis, coordinator for Study Abroad and International Exchange in the OCE unit at LAU, speaks during the closing ceremony at UNESCO Palace.
Click on any photo above to view all nine images.
As part of a national 16-day campaign promoting activism to combat violence against women, three LAU units partnered with various NGOs this month to organize a series of events around the Beirut campus to raise awareness among students.
On December 8, LAU's Institute for Women's Studies in the Arab World, the Outreach and Civic Engagement unit, and LAU Beirut's Dean of Students Office launched the White Ribbon Campaign in the university — a global campaign that strives to compel men to take more responsibility for reducing the level of violence against women.
Using the slogan "Be a Man: Men and Women Against Violence," the event aimed to encourage positive masculinity and promote a petition to the Lebanese Parliament in support of a law protecting women against domestic violence and other forms of abuse.
The event was held in partnership with KAFA (enough) Violence & Exploitation (a local women's and children's rights group), Oxfam GB (a leading aid and development charity), and International Medical Corps (a global humanitarian non-profit organization).
White silhouette cutouts dotted the campus for two weeks leading up to the launch, a strategic move to peak students' curiosity.
On the day of the event, white ribbons were hung from the big tree in the main courtyard between Irwin and Nicol halls, each with black cards tied on the end with various definitions written in Arabic of what it means to be a "real man."
Posters of Lebanese celebrities with various anti-violence sayings on them were erected behind a cluster of booths outside the Safadi Fine Arts Building.
At midday, students held onto white ribbons to form a human chain that stretched from the Upper to the Lower Gate, and moved around the campus.
"The on-campus event was quite a success," says Marita Kassis, coordinator for Study Abroad and International Exchange in the OCE unit. "Although most of the students are not personally exposed to such a problem at home, they were very keen on signing the petition in order to help others," she adds.
The petition gathered more than 200 signatures, but the event's coordinators were less concerned with numbers as they were with making sure the message got through. "How many signed doesn't necessarily matter. It's symbolic. It shows that youth really care about this issue and are willing to take a stand," says Kassis.
IWSAW holds an event on gender-based violence every year, but this is the first time the White Ribbon Campaign has come to the Middle East. Besides LAU, other universities in Lebanon also held activities as part of the campaign.
Violence against women is a universal phenomenon, according to the United Nations Statistics Division. Women are subjected to different forms of violence — physical, sexual, psychological and economic — both within and outside their homes.
The rates of women experiencing physical violence at least once in their lifetime vary from several to over 59 percent depending on where they live, states a 2010 UN report.
"I approached groups of students during the campaign, especially males, and said: 'Violence could be very far or near — in the future you might have a brother-in-law who beats your sister, what would you do then?'" says Anita Nassar, IWSAW assistant director. "If there is a law in place, the abuser can be convicted, and the students seemed to understand just how significant that would be," she adds.
Within the framework of the campaign, other events were held at LAU to continue spreading the anti-violence message. They included a screening of a film entitled "About Latifa and Others…" by journalist Diana Moukalled on December 8, and a panel on a pioneering study called "The Effects of Socialization on Gender Discrimination and Violence Case Study: Lebanon" by Jinan Usta (M.D., M.P.H.) and Christine Sylva Hamieh (Ph.D.) on December 9.
On December 10, the 16th and final day of the awareness campaign, the UN Information Center in Beirut and LAU held a joint press conference at Irwin Hall to bring attention to the recent student and university-led efforts to educate people about violence against women.
"Awareness may create active movement. That is the point of democracy to translate public opinion into public policy," said LAU President Dr. Joseph G. Jabbra. "Unfortunately, in our Middle East and Arab society we don't like to talk about violence against women but it is our duty as universities [and citizens] to bring the issue out into the open."
But, he added, it shouldn't take a government law to tell society that violence against women is wrong.
"It is very important for women, especially those who have been subjected to violence, to rise up and to refuse to be silenced by any laws. It is their God-given right to be respected by society and most importantly by members of their own families," Jabbra told a room of students, press and faculty.
A closing ceremony for all involved with the 16-day campaign was held at UNESCO Palace following the press conference.