Surveying sexuality
The Department of Social Sciences hosts a lecture revealing the results of a study on reproductive health and sexuality in Arab Youth.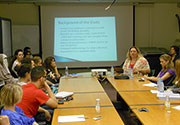 The research revealed that Arab youth are predominantly getting information about sexual conduct through their peers or from the Internet.
Click on photo above for larger version.
More young people in the Arab world are having sex and freely admitting it, at least those are the findings of Dr. Brigitte Khoury, clinical psychiatrist at the AUB Faculty of Medicine and author of a comprehensive study about Arab youth and sexuality. On campus this week to share her research, Khoury says undertaking a questionnaire on such a sensitive topic in this part of the world was a monumental challenge.
"I contacted all the administrators at the universities in Lebanon and no one wanted to hear about it. They said, 'it's too sensitive, we don't talk about these things here, we cannot allow you.' There was too much red tape," she says.

The study was eventually posted online through student groups. Containing 159 multiple choice questions, it encompassed respondents from four countries - Jordan, Egypt, UAE and Lebanon -and covered topics such as sex and the Internet, reproductive health and sexual education, virginity, sexual experiences, relationships and marriage. In the end, 330 were included in the study, most between the ages of 18-25 and many of whom were Lebanese.
The research revealed insight into a topic that is largely taboo in the Arab world. Khoury found that Arab youth are predominantly getting information about sexual conduct through their peers or from the Internet, that a surprising number of men (76%) reported they would marry a non-virgin, that nearly half of females (45%) reported being sexually active and that more than half of those surveyed (63%) said they were in an online relationship.
Other statistics, such as the fact that women have sex for love (50%) and men, for sexual pleasure (80%), were decidedly less astonishing.
"To me, what was interesting was the unimportance of virginity to women, more than 50% thought it wasn't important anymore," says Khoury. But still, she noted, "there was an association of negative feelings with sexuality when it comes to women, and that's the influence of religion and family that condemns them."
But some who attended the lecture, like psychology student Mira Moughnieh, thought those statistics were unrealistic. "I thought it was a bit peculiar that a large percentage of the women surveyed admitted being sexually active, and that most of the men stated that it was not important for them to marry a virgin. The Lebanese population on the whole is much more conservative than this when it comes to sex."
Still, all agreed the topic was an important and under discussed one.
"This kind of research is very much needed because sexuality is taboo in the Middle East," says Dr. Ketty Sarouphim, associate professor of psychology and education at the Department of Social Sciences at LAU. "It's very bold that she did this kind of research and hopefully it will open the door to this kind of topic."
The study, which took about a year from start to finish, was funded by the Issam Fares Institute and UNESCO.