Taking education to municipalities
CEP at LAU and the Muhanna Foundation launch course for municipal workers.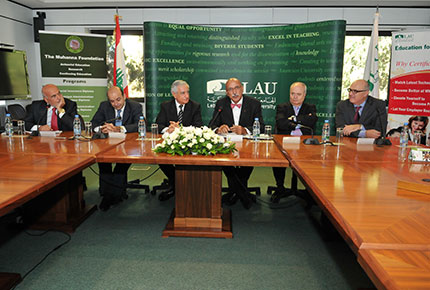 Lebanese American University's Continuing Education Program and the Muhanna Foundation have launched a five-month program to enhance the administrative and financial capabilities of municipality employees.
The Municipal Administration and Finance Diploma was formally launched on October 24 at LAU's Beirut campus under the patronage of caretaker Interior Minister Marwan Charbel. The certificate, which is being offered in cooperation with the ministry's Local Administration and Councils Directorate, will feature three modules on municipal and state law, administrative procedures and finances. The program's main goal is to strengthen strategic planning and budgeting for municipal activities.
"There is a great deal of work to be done in Lebanon and we need to reconstruct our municipalities, especially with regards to administration and financing," said LAU President Dr. Joseph G. Jabbra at the launch. If the initiative is successful, LAU will seek to develop further adult-education programs as part of the university's commitment to better serve the community.
Lebanon's 985 municipalities currently employ roughly 13,000 people throughout the country, the majority of whom lack the proper capacities to effectively execute their duties.
"In our tour of numerous municipalities, we noticed how much was left wanting in terms of organization and strategic planning," said Dr. Ibrahim Muhanna, chairman of the Muhanna Foundation's Board of Trustees. "So, we decided to launch this initiative as a way to help municipal employees acquire the skills they need." While there are degree programs in municipal studies offered in other countries, no such course exists in Lebanon, he added.
Elias Khoury, representing Minister Charbel, said the Interior Ministry was optimistic the course would contribute to meaningful capacity building in municipalities. "The ministry cares about the future and we will be monitoring the impact the diploma has on municipal employees and their performance," he stressed.
According to the Lebanese Center for Policy Studies (LCPS), Lebanon's municipalities face considerable administrative and fiscal constraints. "Almost 400 municipalities do not have one single employee and another 400 have very weak municipal administration. They are subject to oversight by several authorities, which has reduced their ability to respond to the needs of their constituents," said Sami Atallah, LCPS's executive director, in a 2012 analysis. He also noted that most municipalities have limited or no capacities to provide services and are even unable to collect local taxes.
Classes for the diploma will take place every Wednesday from December 4, 2013 to June 18, 2014, with sessions being held simultaneously at the Lebanese American University campuses in both Beirut and Byblos. Public servants and contract employees with at least five years of experience and under the age of 60 are eligible for the program.
To learn more, contact mafd@muhanna.org or munifinance@lau.edu.lb