Taking leadership home
MENA professionals graduate from the Leaders for Democracy Fellowship Arabic Program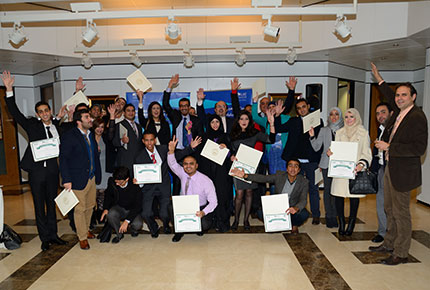 After three months of learning about leadership, it was time for members of the Leaders for Democracy (LDF) Fellowship Arabic Program to take their talents back home.
At a closing ceremony on December 10, 22 participants from 11 Middle East and North Africa (MENA) countries came together a final time to reflect on their new skills.
"If there ever was a time in the history of the Arab world when strong leaders are needed, it is now," said Dr. Joseph G. Jabbra, LAU president. "The change will begin as soon as you return to your respective countries and implement everything that you have learned and experienced here at LAU and in Lebanon."
LDF is a three-month program for MENA civic leaders. Funded by the U.S. State Department's Middle East Partnership Initiative (MEPI), the program provides courses in leadership, democracy, communication and conflict resolution. Fellows then put their knowledge to the test with a work placement at an organization in Lebanon.
Egyptian national, Mary Ebrahim, worked on a project to combat sexual abuse and exploitation of Syrian refugee children in the Western Bekaa with Lebanon Family Planning Association. "The placement allowed me to build on my experience working with victims of sexual abuse," she said. "Despite the happenings and turmoil in Egypt, I have come to realize that we are still better off than most."
U.S. Embassy Second Secretary MEPI Coordinator, Erik Ryan, spoke as the fellows received their certificates of participation. "A key leadership quality is to know when to follow and when to lead," he said. "Make changes for the better as you become the leaders of your home countries, making them inclusive of all people and of all ideas."
University Enterprise Office Director, Walid Touma, told the fellows they could help strengthen the culture of democracy in their native countries. "It is up to each nation to define the shape, extent and nature of their democratic system." He highlighted the challenges of working with people from different cultures but noted how successfully the LDF fellows came together through teamwork and nonviolent communication. Emphasizing the transformational effect of the program, Touma added: "You are not the same people today as you were when you first arrived."
Libyan national, Serag El Alam, considered himself lucky to have conducted research with the NGO Network for Development. "I learned how to do actual advocacy and made lots of new connections that will be useful for my career," he said.
The reception culminated in a short movie prepared by the participants that showcased their academic training, field trips and happy memories together.