Speaking with Hillary Clinton
LAU students participate in outgoing Secretary of State Hillary Clinton's final virtual town hall meeting.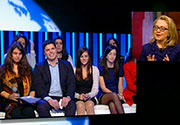 The students said it was an honor for them to be chosen to attend the event but wished they had the chance to ask more questions.
Click on photo above for larger version.
Ten of LAU's best and brightest were chosen to take part in U.S. outgoing Secretary of State Hillary Clinton's final virtual town hall meeting on January 29th. The students were a mix of graduate and undergraduate students in Political Science and International Affairs.
"The students chosen from Beirut and Byblos to participate were ones we recognized as articulate and able to think on their feet and would represent the best LAU has to offer," says Dr. Jennifer Skulte-Ouaiss, assistant professor of political science/international affairs in the Department of Social Sciences at LAU Beirut.
Ten top AUB students joined the LAU delegation as they eagerly headed to MBC studios in Zouk Moshbeh. The atmosphere leading up to the international conference was marked by a flurry of excitement and debate about American foreign policy, the role of women, and the recent developments in the Arab world.
"It is a huge honor to be chosen to attend this event," says Hrag Avedanian, a third-year International Affairs student at LAU Beirut.
"This is an exciting opportunity," enthused Diala Almasri, Avedanian's classmate. "We all appreciate our professors recommending us for this event."
As part of what the State Department billed as a "Global Townterview," Clinton cheerfully engaged with young people from around the world. She interacted live with audiences from various cities including Beirut, Tokyo, London, and New Delhi and
took questions via Twitter, Facebook, Skype and YouTube. These were wide-ranging and focused on women's issues, China-US relations and the geopolitical significance of the Arab Spring.
Unfortunately due to technical problems, the Middle Eastern delegation was only able to ask two questions. The first came from LAU student, Khaled Kabbara, who asked Clinton about the future of the Arab Spring. "It's so exciting to see people in North Africa after so many decades of oppression looking to find their own way forward democratically," responded Clinton. Though she did warn that transitions are by their nature complex, and that a robust democracy cannot appear overnight.
A student from AUB inquired about the Secretary's opinion on the Middle East peace process and Clinton responded that she believed that the recent election of Benjamin Netanyahu "opens doors not nails them close."
The LAU students had hoped to be able to ask many more questions and had prepared a number of them in advance.
As the "townterview" moved forward, Clinton laughed off a question about a potential run in 2016. Informing the audience that she plans to write a second memoir, she expressed intense regret over the loss of four American lives in Benghazi, Libya and said she is working to prevent such atrocities from occurring again in the future.
On Friday February 1st, Clinton formally resigned - leaving with her highest-ever public approval rating - as John Kerry, a senator from Massachusetts, was sworn in as the new top U.S. diplomat.
A text transcript can be found on the State Department Website.