Getting by with a little help from her friends
LAU alumna Tania Saleh successfully crowd-funds her new album and proves that Arab musicians are, in the words of The Beatles, getting by with a little help from their friends.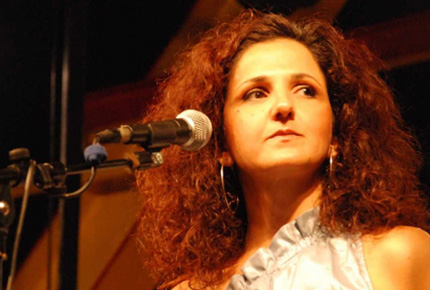 Talented Lebanese singer and LAU alumna, Tania Saleh, has given her audience three albums. When it came time to giving them a fourth, she asked her audience for help in order to catapult her new work, Shwayet Souwar (A Few Images). Saleh launching a crowd funding campaign on Zoomaal.com, where fans and supporters were able to contribute to the new album release. In exchange for their financial contributions, supporters received various combinations of CDs, T-shirts, concert tickets and even the possibility of backstage passes if their contributions were high enough. Independent Arab musicians operate in a structural vacuum due the lack of a real music industry. As a result, Saleh's supporters will come away with not only these gifts, but also the satisfaction of having contributed to the success of an independent Lebanese musician.
After an intense sharing campaign on social media and by word of the mouth, Saleh's campaign was a heartwarming success, even surpassing it's original financial goal. "It's a wonderful feeling. Some people continued contributing to my campaign even after we had reached the goal set on Zoomaal. There is a pleasure in supporting something you love. I feel that all those people who contributed to my campaign could be my friends," said Saleh.
According to her, Shwayet Souwar is more mature and universal than her last album and is a message about a woman's feelings. "A woman in this part of the world is hard working, full of hope and positive energy. This is the time when we need romanticism the most because we are going crazy with violence and hatred and division. The album makes us go back to our humanity and emotions, and why not in the middle of all this ugliness? It's a small part of my duty as a musician to be able to portray a positive image of who we are."
Shwayet Souwar is the result of an elaborate collaboration between Saleh and Norwegian co-producer, Erik Hillestad, with outstanding guest musicians from both Lebanon and Norway making appearances. In addition to all these international influences, an entirely different continent, South America, inspired the album. "South America is booming in every sense, music, art, film! We have to be part of it because there is a large Lebanese community there and we have to talk to them," she says. The album clearly shows her love for Brazilian music. It's a departure from her usual folk and alternative rock sound and a journey into Bossa Nova. As part of her attempt to reach out to the Lebanese community in Brazil (which some estimate to number up to 13 million people) Saleh has also translated the lyrics into English and into Portuguese.
After 21 years of doing music alongside her full time day jobs, Saleh has now quit work to pursue her music career entirely. "I reached a place where I wasn't giving my best to either my music or my job, so I decided to take the risk". Considering her achievements, Saleh has every right. Besides her own compositions, she has made a name for herself singing in productions with Ziad Al-Rahabini, Nadine Labaki, Toufic Farroukh, Charbel Rouhana as well as at renowned venues such as The Byblos International Festival, The Opera House and Al Genaina Theater in Cairo, The National Theater of Doha, The Roxy (Los Angeles) and the Arlington World Music Festival (Washington, D.C.).
"I'm doing everything with no manager or agent or masseur," jokes Saleh, mother of two, half seriously. Indeed, Saleh has even done the illustrations on her album, thanks to her training as an artist at LAU and in Paris. She is hoping that audiences will give in the same way that she has been giving all of her talents. "I'm giving myself a year of doing music full time, it's a risk, but there's no other way."