Taste of Italy
LAU Beirut celebrates Italian culture, cuisine and more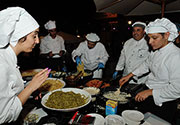 Colorful Pasta stations whet the appetite.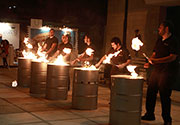 An evening of entertainment.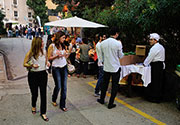 Discovering the Italian Mercato.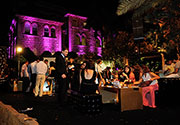 A unique atmosphere introduced students and guests to the Italian culture.
Click on any photo to view all four pictures.
An authentic Italian atmosphere swept through LAU's Beirut campus on the evening of May 10. While aromas of Italy drifted through the air and guests discovered the refinement and luxury of the products displayed — including Fiat cars and the iconic Vespa — snatches of conversations in the Romance language could be heard.
"We are proud to bring people together to celebrate the best that Italy has to offer," said Ambassador Giuseppe Morabito.
Organized by the student-run LAU Hospitality Club and overseen by the Institute of Hospitality and Tourism Management Studies (IHTMS), the event enchanted participants of all ages.
"Our mission is to be part of society and to give people around us the opportunity to express themselves, to live, to laugh and to enjoy life," said LAU President Dr. Joseph G. Jabbra.
According to Dr. Said Ladki, head of IHTMS and chair of the Hospitality and Marketing Department, the event proved a successful test for the students. "Every year we explore different aspects of hospitality and tourism. This time we delved into new venture that seems to be a winner. The feedback was overwhelmingly positive."
With live music playing in the background, some wandered around the pasta or Italian tapas stations, while others, sipping nothing less than a limoncello-Arak mix, learned more about unique resorts where they could spend their next vacation.
"For me this is so surprising and exciting," said first-year banking and finance student Nadine Keraidieh who attended with a friend. "It shows that this university is not only about studying, but also about offering opportunities to discover other cultures, to network, to grow."
Serving pasta at one of the stands, Fawzi Aidi, a third-year management major who takes a course in hospitality, agreed: "This is all about PR, marketing and exposure, and it is extremely motivating for us to know that our university is doing what it takes to be the best."
While the buzzing students' faces started to fade with fatigue, their eyes showed overwhelming excitement. "We really worked hard for three straight days to prepare, but it was worth it. Look how happy people are!" said Charlotte Rabbath, an economics student taking a cooking course.
No one put it better than Vice President for Student Development and Enrollment Management Dr. Elise Salem. In an e-mail sent to Dr. Ladki, Salem expressed her profound admiration for the event organizers. "Thank you for transforming our campus last night into an Italian movie set. We felt like privileged actors eating, drinking and socializing with our colleagues while being introduced to the Italian culture."