Technology in education, an opportunity for disadvantaged communities
Researchers, academics and educators discuss the development of online courses to build the capacity of educational communities in Lebanon.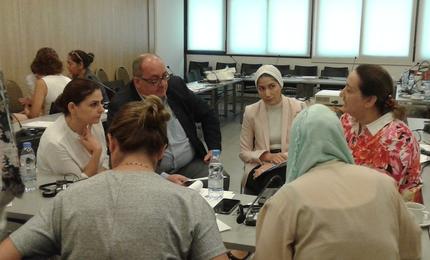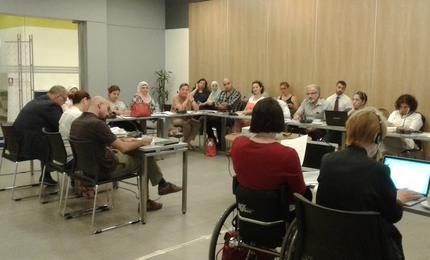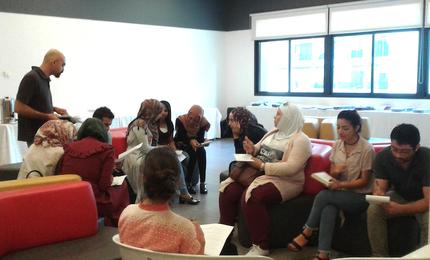 Three-dozen researchers, academics and educators from Lebanon and the U.K. were brought together last week by the Centre for Lebanese Studies (CLS) at LAU for an intensive two-day consultation workshop centered on Massive Open Online Courses, more commonly known as MOOCs.
"This is part of a project between University College London (UCL) and CLS that aims to enhance the research capacity and professional development of teachers for disadvantaged Lebanese and the refugees in Lebanon, so they can deploy these skills and benefit their local communities," explains Maha Shuayb, director of CLS.
There are currently more than 500,000 school-age refugee children in Lebanon, as well as at least 200,000 Lebanese children in public schools. And although web-based courses are becoming more popular worldwide, very few have been developed in the Arab region or in the Arabic language for that matter. Their development would make education accessible to these communities at a greatly reduced cost.
"Our goal in bringing together the academics—who will design the MOOCs—with practitioners—who will benefit from them—is to ensure alignment in vision, understanding of needs, and development of fruitful content," explains Shuayb.
The workshop, held at LAU's Beirut campus was one of a series of events and consultations that will take place as part of the initiatives of the RELIEF Centre—an acronym for Refugees, Education, Learning, Information Technology, and Entrepreneurship for the Future.
RELIEF, initiated by the Institute for Global Prosperity (IGP) at UCL, and funded by the Economic and Social Research Council in the U.K., is a program of research and education dedicated to improving the quality of life of both hosts and refugees in Lebanon.
For Nikolay Mintchev, research associate at the IGP, "This consultation was only the beginning of an ongoing dialogue that we plan to continue with our partners and today's participants."
Among the participants was Chair of the LAU's Department of Education Mona Nabhani. "In order to expand our reach and support of teachers, we have been discussing within the department offering MOOCs for some time, and this workshop has been helpful in expanding our understanding and capacity to do so," she said.
Such online courses and certificates would be offered through the department's Teacher Training Institute, directed by Associate Professor of Education Rima Bahous, who expressed similar sentiments. "Teachers face many challenges in Lebanon, including lack of appreciation, support, and time," she said. "MOOCs can help us offer that to them and encourage their ongoing professional development."
Professional and Curriculum Coordinator for Education at UNRWA Maha Ali was also in attendance to share her experience with the research team and learn more about the potential for and development of MOOCs in Arabic.
"UNRWA hires 1,800 teachers. If an MOOC can help us efficiently offer regular training opportunities to more of our educators, we would certainly welcome it," said Ali.
The information gathered from and experiences shared by the workshop participants will now be collated and considered by Diana Laurillard from UCL's Institute of Education. Laurillard will lead the development of the MOOCs within the scope of the RELIEF Centre to aid in the professional development of teachers and community researchers in Lebanon.
"Lebanon is a compact microcosm of the problems we're trying to address and we hope that what we build through these consultations will also provide information, advice and guidance in other places," said the expert in learning technology.
Other components of the project, including urban planning and research, will be implemented in collaboration with the American University of Beirut.