TEDxBeirut holds its first salon at LAU Beirut
TEDx events are organized locally but under the general guidance of the world-renowned Technology Entertainment and Design (TED) conference series.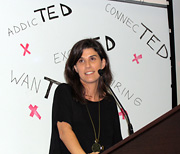 TEDxBeirut curator Patricia Zougheib moderated the TEDxBeirut first salon held at LAU Beirut.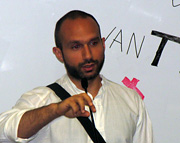 TEDxBeirut co-curator William Choukeir taking part in an open debate with the event participants.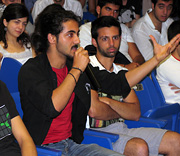 Participants debate about the kind of influence that "behavioral targeting" has on internet users.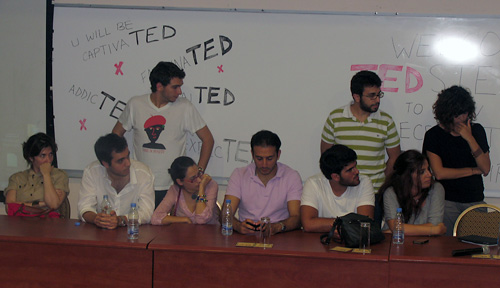 The TEDxBeirut team during the LAU event.
Click on any photo above to view all four images.
TEDxBeirut launched its first salon at LAU Beirut in front of a packed audience on May 26.
TEDx events are organized locally but under the general guidance of the world-renowned Technology Entertainment and Design (TED) conference series. TED says these branded events "bring people together to share a TED-like experience."
Presentations by Hans Rosling, Derek Sivers and Elie Pariser addressed Asia's bid to regain its economic position in the world, the role of leadership in the creation and evolution of a popular movement, and the potential pitfalls and costs of "behavioral targeting" for general users' experience of the internet, respectively.
The presentations were followed by an extensive discussion involving TEDxBeirut team members as well as audience members.
This atmosphere of vigorous and open exchange fosters students' appreciation for dialogue, according to Reine Azzi, LAU instructor of English and moral reasoning.
"Our students should graduate with increasing awareness of the world they live in, instead of simply focusing on the disciplines they've chosen," Azzi said in her introductory remarks. "TEDxSalons — and other public lectures and debates — provide an arena in which students can build upon their synthesizing, creative, ethical and respectful minds."
Azzi said her belief that university instructors could learn from the TEDx approach to communication was reaffirmed by the success of the event.
The mission of LAU's Department of Humanities, which organized the event, includes the arrangement of activities in which students interact through debate. Azzi said the TEDxBeirut salon marked a promising beginning to such a series.
"We hope that LAU and TEDxBeirut are initiating a local movement that will help to spread knowledge and innovative ideas," she added.
TEDxBeirut curator Patricia Zougheib, who moderated the event, says the aim of such events is to build and expand the TED community in Lebanon and the region, as well as spread awareness of the TEDx concept.
"We want people to learn what TED is all about, and to get acquainted with the TED talks' formats and spirit," Zougheib says.
TEDxBeirut's planned series of one-day conferences will follow TED's format for talks, performances, and dialogues aimed at provoking conversation about future possibilities, according to Zougheib.
"Our long-term vision is to grow TEDxBeirut over the years, and thus gradually contribute to creating an informed, passionate and caring community," she adds.
Zougheib was overwhelmed by the university's warm reception. "LAU Beirut proved to be an excellent venue for TEDxBeirut's first salon," she said.
To learn more about upcoming TEDxBeirut events in Lebanon, check this Facebook page or the TEDxBeirut website.