TEDxLAU: It only takes ONE idea
LAU Beirut hosts the first TEDxLAU Salon, an event created to inspire positivity and spur people into action.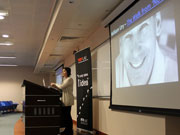 TEDxLAU organizer Reine Azzi preps the audience for the viewing of William Ury's innovative talk on conflict resolution.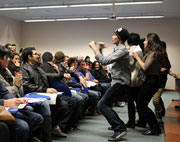 The LAU Drama Club gets the audience going during an impromptu flash mob.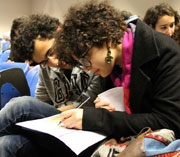 Participants design their own conflict resolution paths following one of the TED screenings.
Click on any photo above to view larger versions of the images.
LAU's Department of Humanities hosted the first TEDx Salon in January, with students and faculty getting together to screen a series of inspirational speeches. The independently organized event complied with guidelines set out by TED, the nonprofit organization dedicated to "Ideas Worth Spreading."
"The aim of the evening was to create room for a more positive perspective on the world around us," says the event's coordinator Reine Azzi, an instructor of English and moral reasoning at LAU Beirut.
Speakers addressed topics ranging from large-scale conflict resolution to personal hurdles.
Attendees found William Ury's talk, "The Path from No to Yes," particularly engaging. "The spark in the speaker's eyes was enough to keep the audience glued," says Samira Shami, an English instructor and coordinator of the Department of Humanities' Lectures Committee.
Ury, a best-selling author and international negotiation expert, advocated finding a middle ground in times of conflict. Encouraged by his optimism, the audience applied his conflict resolution method to problems in Lebanon.
In the midst of the ensuing discussion, the LAU Drama Club launched a flash mob, shocking the crowd with a dancing and singing extravaganza. Inspired by "Gotta Share," a video on TED's website, the performance highlighted society's addiction to mobile phones.
Next, Google engineer Matt Cutt explained how he enlivened his life by trying something new for 30 days. The audience said they felt motivated to write positive e-mails, compliment their family members, and even, jokingly, change their hair color every day for 30 days.
Alisa Miller, head of Public Radio International, elucidated the distorted worldview propagated by American media. Miller's talk stirred the LAU audience to discuss local media outlets and the need to stay self-informed.
Amy Purdy's personal story was a perfect finale. Purdy, a professional snowboarder who lost both of her legs below the knee at the age of 19, described overcoming physical barriers and literally transcending boundaries. Her passion and determinism left everyone in awe.
TEDxLAU drew a crowd of around 72 students, alumni, and professionals.
Dr. Vahid Behmardi, chair of LAU Beirut's Department of Humanities, is glad that such events are organized in the spirit of collective service.
"At the Department of Humanities we try to maintain a forward-looking vision of a milieu of student-oriented learning," he says. "This should be a global vision transcending cultural and national divisions. We need to highlight Humanism in our department. Through events like TEDxLAU's first salon, we move away from nationality and closer to universality. Humanism and universality are at the very root of Humanities and University."
On his blog post "I'm AddicTED and I know it," student organizer Selim Njeim called the TEDxLAU event an "inspirational light."
"What made [this] an experience like no other was the fact that it all happened at LAU, my university - the place that continues to provide me with an environment to study and grow as a person," he wrote.