"Tell Your Tale:" A Whimsical Journey
IMAGINE and storyteller Alia Alzougbi revive the lost art of storytelling in the second of the series four residencies.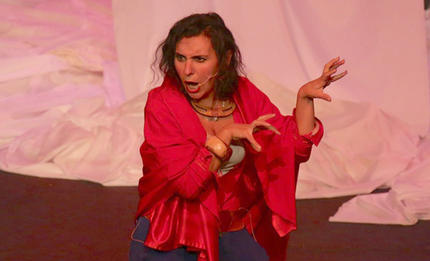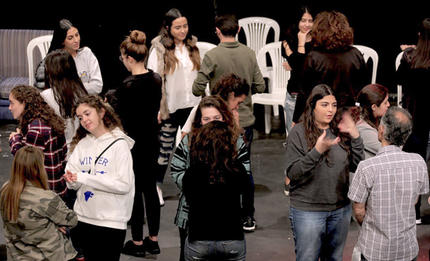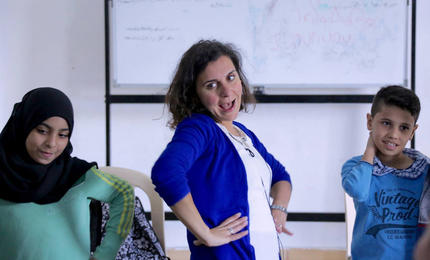 Why do we tell stories? To make sense of the world and our place in it. With that, IMAGINE Workshop and Concert Series (IWCS) kicked off its second residency, Tell Your Tale, with storyteller and British Academy of Film and Television Arts (BAFTA) nominee Alia Alzougbi.
"Storytelling is a very powerful art form, yet the simplest," said IMAGINE Art Director Seba Ali, of her theme choice. "In our intensely visual world, we need to take a moment to listen and imagine. I felt the urge to incorporate storytelling at this crucial time."
The events, which took place from November 20 to 24 on both Beirut and Byblos campuses, included two storytelling workshops and two performances by Alzougbi. The program concluded with a trip to the Shatila refugee camp in Beirut.
Oral storytelling, Alzougbi explained to participants, began in India, spread to Persia and took hold in the Middle East before arriving in Europe. The art, while still very much alive in Europe, has been lost in the Arab world, she said.
"In Europe, my work is about bringing Arab culture to the continent from our perspective," she said. "This is the first time I work with a university in the Arab world in this manner. For me, this is the beginning of a new venture."
In one exercise, she asked participants to choose a folk tale and recount it to one person in 30 seconds. When the time was up, the storytellers had to narrate their story to a different person, while focusing less on the details and more on the emotions involved. The stories morphed considerably with each retelling, and the task became more challenging when Alzougbi increased the allotted time to one minute.
LAU Public Relations Instructor, Elyssa Skaff, asked her students to attend the workshop because "the art of storytelling is something that we need to become good at if we really want to communicate with people." She said that at a time when there is so much information "what sticks are the interesting stories that people can really relate to."
Lama Hatoum, who is majoring in Television and Film, wants to write and direct her own screenplays someday. The workshop helped her learn "various storytelling methods and ways to concentrate on different aspects."
For Marketing major Dana Daoud, the workshop offered tips she can apply in her studies and later in her career. "If I want to sell a product, I have to engage you in a story that we can both relate to," she said about marketing. "[This way] you feel I am more credible, and you feel more involved."
The workshop attracted not only LAU students, faculty and staff, but members of other universities as well. Ghadeer Hamade, a Journalism major at the American University of Science and Technology, wanted to learn how to make her feature stories more interesting. "Everyone has a story to tell, but the question is how to bring out the human element, so I came here to become a better storyteller," she said.
IMAGINE did not forget about storytelling's most common audience: children. At the Shatila camp, kids between 9 and 13 had the chance to play, sing and relate a story of their own.
"They have been through a lot and they need to express themselves." said Alzougbi, who works with refugee children frequently.
Spread over four months ending in March, IWCS comprises 22 events, including concerts, art shows, panel discussions, workshops, and outreach and education programs. The third of four residencies, "Salaam," will kick off in February with the Apple Hill String Quartet and world-renowned clarinet player Kinan Azmeh.
Communication Arts students at LAU express their pride in the department's mission to #ReinventCommunication
Watch full video: http://comm.lau.edu.lb