The advancement of knowledge
LAU's School of Medicine hosts its second annual Medical Students Research Symposium.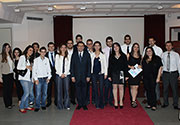 Students and faculty gather for a group picture.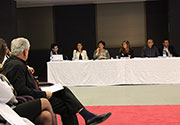 LAU President Dr. Joseph G. Jabbra, who attended the daylong event, listening to the jury.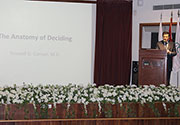 SOM Dean Dr. Youssef G. Comair addressing the audience.
Click on any photo to view all three pictures.
On April 13, medical students presented their research findings to an audience of faculty, physicians and budding researchers at the Medical Student Research Symposium of LAU Medical Student Association. Gathered at the University Medical Center-Rizk Hospital (LAU Medical Center–Rizk Hospital), 20 students gave oral presentations while others exhibited twelve poster presentations, all seeking out advice and recommendations from established names in the field.
"The role of universities is not confined to dispersing information, it is vital for generating knowledge and improving standards," said Dean of the Gilbert and Rose-Marie Chagoury School of Medicine Dr. Youssef G. Comair, who served as the symposium's keynote speaker.
Comair presented a study of his own research on Parkinson disease and discussed crucial steps for a successful surgery. He reminded the students in the audience that daily observations of patients can generate research ideas, stressing the important link between clinical experience and the pursuit of research.
Fourth year medical student Sara Araji concurs. "There has been a significant surge of enthusiasm among students for pursing research—the faculty, physicians and students all agree that conducting clinical research is integral to being a good physician," she added.
On behalf of his fellow students, President of the Medical Students Association Jean-Michel Azzo expressed his gratitude for the opportunities afforded by LAU Medical Center–Rizk Hospital physicians to increase their medical research expertise.
During the introductory remarks he proudly announced that the LAU Medical Students Association had become officially chartered as an authorized chapter of the American Medical Students Association. "Becoming a member of the largest association of medical students in the world allows us to facilitate global sharing of knowledge. Further, through international partnerships we can play an active role in improving worldwide medical education and patient care," explained Azzo.
"It is important for us to have a global impact," said Rim Halaby after she presented her research findings on triple anti-platelet therapy and combinations with oral anticoagulation after stent implantation. "We are grateful to have such an opportunity to showcase our research talents and to exchange ideas."
The students presented their work with palpable enthusiasm such as Mohammed Ali Jardaly whose inventive research on electrooculography showed how technologically captured eye movements can help patients who are unable to communicate with medical personnel. "I was inspired by the famous Jean-Dominique Bauby, editor of French fashion magazine Elle, who wrote an entire personal memoir using eye movements," Jardaly explained.
Every presentation was followed by an academically vigorous question-and-answer period where students were given constructive criticism and insights into their projects.
The daylong symposium ended with an award ceremony celebrating academic excellence in research.
First-place prize for the oral presentation went to third year medical student Yazan Daaboul, "A Lebanese-Italian Collaborative on Bone Marrow Transplantation In Pediatric Patients With Î'-Thalassemia Major." The second-place prize went to third year medical student Serge Korjian, "Impact on Baseline Kidney Disease on Arterial Stiffness in End Stage Renal Disease: A cross sectional study." The poster award went to biology graduate Bassem Khalil.