The Arab-American Experience: a month of shattering stereotypes
LAU NY hosts lectures by acclaimed author Jack Shaheen and journalist Raghida Dergham.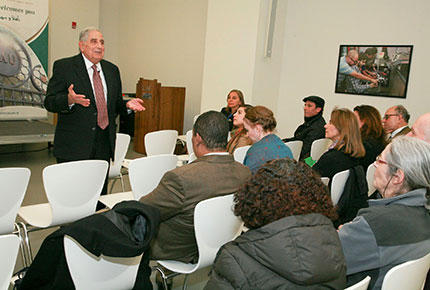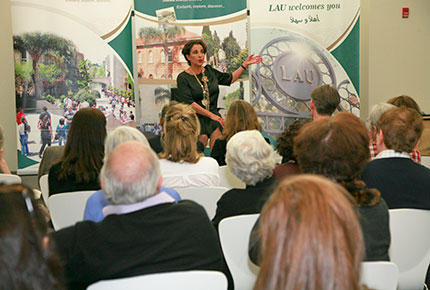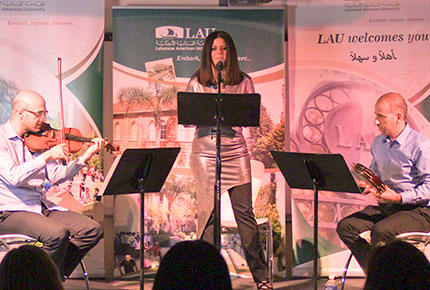 "Winning the war on terror means shattering stereotypes," said internationally acclaimed author Dr. Jack Shaheen on the opening night of "The Arab-American Experience," a series of events aimed at dispelling stereotypes and promoting cross-cultural understanding at the Lebanese American University's New York Headquarters and Academic Center.
Hosted in collaboration with the American University of Beirut, the project included lectures, a poetry and music performance, a film screening and a traveling exhibit drawn from the Jack G. Shaheen Archive at New York University. The colorful collection was based on the author's latest book — A is for Arab: Archiving Stereotypes in U.S. Popular Culture — and was on display from April 8 to May 4.
Speaking to a diverse crowd of students, alumni, media personnel and friends during the opening night, Shaheen — a Pittsburgh native of Lebanese descent, and author of several books on the damaging racial and ethnic stereotypes of Arabs in the media — spoke candidly about the urgency of breaking ubiquitous biases. "Stereotypes are so widespread that they are invisible to people," he noted, reminding the audience that "Washington and Hollywood spring from the same DNA."
"We never see the Palestinians in the refugee camps," he lamented, noting that directors sympathetic to Israel use mainstream media to push political agendas, such as in the recent TV hit series "Homeland." "How can you feel sympathy for a people who seems to have no humanity?" he probed the audience. "I'd look at a film and get an upset stomach."
As a solution Shaheen suggested a mechanism to counter media propaganda saying that change could only come through youth. He then surprised the audience by introducing a young Moroccan-American director, Yossera Bouchtia, who debuted her short film "I Am Selma." The film tells the story of a 16-year-old Muslim girl who wears a veil trying to survive high school in post 9/11 America.
During the Q&A, the enthusiastic crowd asked Shaheen questions on topics ranging from Clint Eastwood's latest production "American Sniper" to ISIS' role in furthering the negative perception of Arabs and Muslims. "I enjoyed hearing his perspective," said 33-year-old Robert Kalkstein, who is studying Arabic at LAU NY. "I know that a lot of what we see on TV is propaganda, disguised in subliminal messages, but if there are enough voices on the other side, it might start to change perceptions in the West."
While Shaheen's take on Arabs in the media focused more on film and TV, journalist Raghida Dergham offered an insider's perspective on Arabs in the media at a follow-up event. A political analyst and senior diplomatic correspondent with London-based newspaper Al-Hayat, Dergham discussed her personal journey growing up in the U.S. as the daughter of Lebanese parents. She focused in particular on her challenges as a woman, which she said she overcame by daring to ask questions. The title of her lecture, "Daring to Differ," reflected this approach and referred to her years as a young female Arab journalist. Dergham also gave a brief assessment of the geopolitical situation in the Middle East and North Africa.
"These events are a great way to bring together the Lebanese community on engaging topics; to have a genuine discourse on our role and identity as members of the Lebanese diaspora," said Alexa Tohme, a master's student at Columbia University.