The art and life of Chaouki Chamoun
LAU fine arts instructor and renowned painter Chaouki Chamoun releases new book.

LAU organized a recognition ceremony in honor of Chaouki Chamoun (center) in June 2012.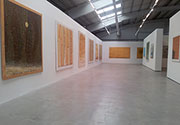 Chamoun exhibited his works in Beirut in April 2013.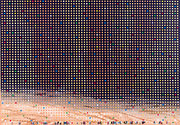 The Night of the Golden Moon, acrylic on canvas, 2008.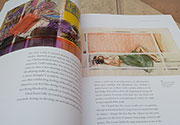 From the book, The Art and Life of Chaouki Chamoun.
Click on any photo to view all four pictures.
"The mountains surrounding the Bekaa Valley were the limit of my world," is the sentiment that introduces the new book, The Art and Life of Chaouki Chamoun.
The world grew much larger as Chamoun, a longtime LAU fine arts instructor, ascended the ranks of the art world to become one of the most renowned artists in the Middle East. The book reveals the treasures of his oeuvre and offers a glimpse into the often-serendipitous chain of events that conspired to propel the young boy far beyond his childhood home.
In large measure, Chamoun's life has been defined by change, but his ardor for intellectual engagement has always remained constant. Early on, he developed the drive to continuously improve, even if he was short on time or money. "Becoming a university student was a dream come true for me," he enthuses. He eventually went on to obtain a Ph.D. in New York City, where he would quench his thirst for knowledge by poring over books at the library for hours on end.
Such a worldview has found a kindred spirit in LAU President Dr. Joseph G. Jabbra, who Chamoun describes as a champion of the arts. Jabbra's philosophy that "art civilizes us" hints at its centrality to all we aspire to be.
"Chamoun's work is a reflection of his ethereal soul," insists Jabbra. The connection between the delicacy of his art and his personal character is a claim echoed by Chamoun's colleagues and students. "He is a gentle, giving and extraordinarily gifted human being who has made a significant contribution to society," Jabbra adds.
A drive to serve the community carries over into his LAU classrooms: "I enjoy giving back to the younger generations," he says. Life in the classroom and in the studio is closely connected, as he believes art, like teaching, is inherently an act of giving.
Reading Chamoun's book, one gains a profound understanding of how his beliefs and attitudes developed. Though his path to success was marked by professional setbacks and personal tragedy, he is unafraid to share such candid details in the book. And while the memory of his brother's disappearance during the Lebanese Civil War still elicits sharp pain, he refuses to transpose his lattice of anxiety on those around him: "I will not let anyone live off my pain," he writes, his justification for a self-imposed hiatus from painting.
His optimism is pervasive; he even refers to death as "the other side of life."
"Art is not there to hide the dark side, but to remind you that joy and sorrow exist at the same time — both are present," Chamoun explains. This philosophy is captured in a 1977 piece he created, entitled "Positives and Negatives: Our Destiny."
Though he likes to be read morally he does not steer his art toward philosophical musing; it is always about the experience, not the explanation.
"We do not look at a painting and use it as a mere vehicle to lead to ideas, be they religious, social, political, or whatever," he says. For Chamoun, what is most important is the visceral experience.
Perhaps the reason why his work is so pleasing to the eye is because it is unmistakably life affirming — a quality enhanced by Chamoun's signature motif of expansive, empty spaces which hold the promise of the unknown, the same promise that beckoned him from the valleys of the Bekaa to the summits of artistic acclaim.