The art of diplomacy
LAU offers students once-in-a-lifetime opportunity to gain leadership training at the United Nations headquarters in New York City.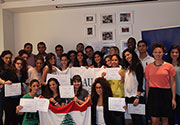 LAU students pose after taking the UN training program delivered by the World Youth Alliance.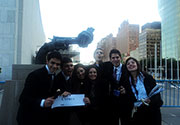 High school students successfully represented LAU in the 13th Global Classrooms International Model United Nations.
Click on any photo above for larger version.
 LAU's Outreach and Civic Engagement unit (OCE) paved the way for two student delegations to visit the United Nations headquarters in New York—the largest international diplomatic organization in the world—to gain invaluable experience in the art of negotiation and civic engagement.
Between August 17 and August 24, an LAU student delegation travelled to New York to take part in the International Diplomacy workshop hosted by the World Youth Alliance. Earlier in the summer, LAU also chaperoned six talented high school students who participated in the International Model United Nations Conference.
"The International Diplomacy workshop was available to our LAU student leaders and OCE student volunteers in the Model UN, Model Arab League and other leadership programs so that they may deepen their diplomacy skills and sharpen their leadership skills," says OCE Executive Director Elie Samia.
The training focused on critical advocacy issues currently being debated at the UN; the students also received a tour of the premises and met with Lebanese Ambassador to the UN Nawaf Salam.
The journey made quite an impression on fourth-year civil engineering student Stephanie Bassil who intends to share her leadership training with her fellow students: "This experience added a different kind of flavor to my logical thinking."
"The 22 LAU students fortunate enough to attend the workshop have returned to Beirut armed with knowledge and experience they will share with fellow students in LAU's much celebrated Model UN and Model Arab League," says Joseph Kanaan, project management coordinator for OCE.
Indeed, LAU's MUN has long been recognized for its influence on shaping the leaders of tomorrow and promoting values of democracy, diplomacy and diversity.
"Model UN changed my life," says 16-year-old International College student Christina Farhat. "I gained an awareness of the importance of international diplomacy," she explains. Farhat, along with five other talented high school students constituting LAU's Global Classrooms delegation, travelled to New York City on May 17th to 19th to participate in the International Model United Nations Conference. Prior to travelling, the delegation received seven training sessions by LAU model UN student secretariat and participated in the LAU MUN conference that took place on March 31st.
Having gained confidence from their training at LAU, the students displayed exceptional skills among the 2500 participants in New York. This year was the seventh consecutive year that Samia and his students have participated and the first time LAU delegation won the prestigious Secretary General's Award for demonstrated excellence.
"I am proud that we won! Participating in Global Classrooms has shown me my potential to create an impact on society," exclaims Saint Joseph School-Kornet Chewan student Angelo Raphael.