The beginning of an era for promising professionals
Professional Pharmacy Year 1 students honored at the annual White Coat Ceremony as they embark on the next stage to their careers.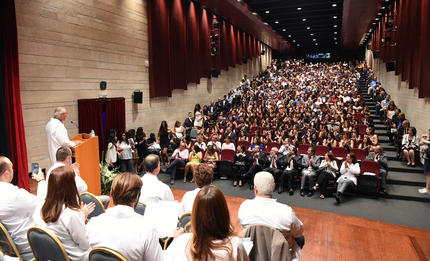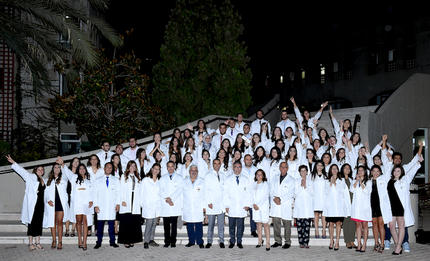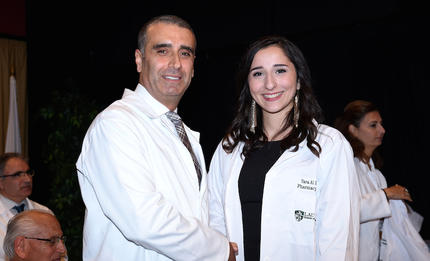 On September 27, the School of Pharmacy held its annual White Coat Ceremony at the Selina Korban Auditorium, LAU Byblos Campus, to celebrate the 76 students who have successfully completed the two years of pre-pharmacy. Present among the university officials, faculty members and proud parents was Member of Parliament Antoine Zahra, whose daughter Tatiana was one of the honorees.
The White Coat Ceremony is a tradition that marks the students' transition from pre-professional studies to the professional degree program that primarily revolves around didactic and laboratory courses, experiential education, interprofessional education and practice, and co-curricular activities.
"It's a rite of passage that welcomes you into the profession and a great symbol of professionalism, ethical behavior, as well as compassion," said Dean of the School of Pharmacy Imad Btaiche, addressing the students.
In his welcoming speech, Btaiche thanked the parents "for having raised such great children and promising professionals." He urged the students to seek new knowledge at all times and to apply it judiciously, for the sake of advancing pharmaceutical care, which has a long way to go before it meets the desired standards. In their capacity as future members of the healthcare team, he said, they must hold on to their values and ideals, collaborate with other healthcare providers, and make a positive impact on the lives of those in their care.
Commending the students' consistent excellence, and emphasizing the importance of practice, Assistant Provost for Special External Projects Wassim Shahin, representing Provost George Najjar, quoted the legendary Greek philosopher, scientist and pioneer: "In the words of Aristotle, 'We are what we repeatedly do.' Thus excellence is not an act but a habit."
Shahin stressed that the School of Pharmacy has not only taught them how to build on their knowledge, but also how to think critically, assuring the students that the School would always support them in their challenges as well as rewards. "The White Coat Ceremony is the beginning of an era for you," he added. "The present starts the second you put on this white coat. Learn to appreciate it. Treat it with affection."
Before the students were presented with their white coats, class representatives Sylvia Boutros and Gaelle Matar addressed members of the faculty, their parents, and classmates with words of gratitude and wishes for success. "Looking back on the past two years, I realized how far we've come," said Boutros. "It seems like the stressful days of studying organic and chemical bonds late into the night with my classmates favored the formation of other bonds ― the bonds of friendship." She echoed her friends' sentiments by expressing her gratitude to LAU, thanks to whom, she said, "pharmacy became passion, and friends became family."
The ceremony concluded with the students vowing to uphold the values that formed the cornerstone of their vocation as they recited the Pledge of Professionalism. The rush of pride that ran through them was clearly communicated by class representative Matar: "We should be honored because we refused to give up, because our hard work and perseverance finally paid off."