The best of all
LAU alumna Carine Baroudi Barakat is named "Woman Entrepreneur of the Year."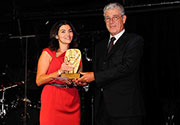 Carine Baroudi Barakat receiving her prize at the award ceremony.
Click on photo above for larger version.
Thriving impresario and LAU alumna Carine Baroudi Barakat was recently awarded the BLC Bank "Woman Entrepreneur of the Year" award for her contribution to the exceptional growth that her company, Entotox Public Health, has made in the field of pest management and public health, both in Lebanon and the Levant.
According to Maurice Sehnaoui, chairman and general manager of the BLC bank this award is the first Lebanese banking award designed to honor entrepreneurs who have achieved excellence and demonstrated personal commitment to the business and the community.
"It is truly a great honor to receive recognition for all those years' hard work," says Barakat who holds a BE in Industrial Engineering from LAU. "It gave me — and the entire Entotox Public Health team — a sense of fulfillment. This company wouldn't be where it is today without their devoted efforts."
The criteria for winning encompassed creativity, sustainability, and corporate social responsibility, all of which Entotox Public Health fulfilled with flying colors. The company provides both pest control and disinfection services to various kinds of premises, from hospitals, hotels and schools, to restaurants, plants, and apartments.
"It [Entotox Public Health] was a preexisting company at the time, and the owner wanted to sell it," says Barakat, recounting her acquisition of the firm in 2000. "I was a fresh graduate back then, and didn't know if I wanted to run my own business so soon. But I studied the company's potential and came to realize it was a great opportunity. Sometimes you just have to trust your gut."
Doubtless, being born into a family of entrepreneurs gave Barakat a leg up. "My father headed one of the biggest agricultural companies in Lebanon — I looked up to him greatly, and was raised with an entrepreneurial frame of mind," she says.
A hard worker and meticulous businesswoman, Barakat prides herself on delving into the various departmental operations of her company. Running her own business was not always an easy ride, Barakat recalls, but Entotox Public Health has come a long way since its humble beginnings and shy metamorphosis 13 years ago.
Having started with just one employee and one car in 2000, the company employs more than 100 employees today, servicing all provinces in Lebanon, four cities in Saudi Arabia (Jeddah, Mekkah, Al Medina and Dammam), and has recently opened a new branch in Doha, Qatar.
Under Barakat's administration, Entotox Public Health has become one of the major pest management and control companies in the Middle East, using cutting-edge pest management techniques. Moreover, as part of the company's continuous effort to promote green energy, Entotox Public Health is responsible for helping Lebanon's reforestation by both backing up non-profitable organizations, and operating as a green company.
Speaking highly of Barakat's success story, LAU's Director of Alumni Relations Abdallah Al Khal says, "We are very proud of our fellow alumni and their achievements. Carine's triumph is a pride to other alumni and an inspiration to LAU students."