"The brain is plastic"
Dr. Samar Zebian, LAU assistant professor of psychology, will launch a monthly column that explores the human brain, in a research and statistics-oriented journal starting April.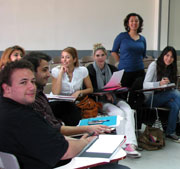 Dr. Samar Zebian (here with her students), assistant professor of psychology at LAU, will soon launch a new monthly column that explores the human brain, in The Monthly, a Beirut-based research and statistics-oriented journal.
Since her early years in graduate school, Dr. Samar Zebian, assistant professor of psychology at LAU, has had a strong commitment to cognitive research especially with respect to how culture affects brain processes.
Starting in April, Zebian will begin publishing a monthly column, called "The Amazing Brain: Brain Science and Society," examining cognitive functions. The column will appear in The Monthly, a Beirut-based research and statistics-oriented journal that covers topics ranging from political and social issues to matters concerning science and health.
"I don't know if science is king in our country — it probably isn't — but there is a bit of leeway and acceptance that scientists are saying something that we should pay attention to," says Zebian.
"The more perspectives you have on issues of public interest, the better," Zebian says, explaining that her column will offer an alternative, scientific perspective on issues of public concern such as how to boost brain potential across the life span.
Other topics to be explored are how Botox and plastic surgery affect the brain systems that regulate emotion and one's sense of well-being, and how institutionalized prejudice rewires our neurons and makes some behaviors hard to change.
The study of the brain remains relatively new and unexplored with only eight known cognitive and neuro scientists in Lebanon.
But despite being in its infancy, Zebian explains scientists are making "revolutionary" discoveries that fly in the face of the conventional beliefs that the biological nature of the brain cannot be altered.
As more research is conducted, scientists may be able to discover cures to genetic conditions derived from the brain that were once believed to be irreversible.
"The brain is plastic," Zebian says, "and that means we should think a bit more flexibly about the potential to change the brains of people after accidents, of people with old age, with learning disabilities, people that have bad habits and addictions, mental illnesses, and of people who just want to get smarter."
While Zebian's professional interests extend far and wide, one of her main focus points for research lies in the study of autobiographical memories and what affects how we organize our personal memories.
Through her collaborative research, she has discovered that unlike individuals in nearly all other societies, Lebanese people more often than not base their memories on historical and political events — a phenomenon attributed to the country's long and chaotic period of war and instability.
The "living-in-history effect," as Zebian calls it, means that rather than benchmarking significant moments in a person's life using a personal timeline, the Lebanese instead tend to organize memories of themselves against battles, invasions, assassinations and other political and historical events that are irrelevant to their personal events.
"So the question is: Why are these memories getting bumped out and why are historical events being substituted in?" Zebian says. "Mentally, why does that happen? What's the purpose for it? And we really don't know."
The topic will feature in an upcoming column of The Monthly, and is examined more deeply in a co-authored study Zebian conducted with a Canadian colleague that will soon be published in an international journal.
No clear explanation can be offered for the "living-in-history effect," nor why it affects some societies and not others, until more research can be developed, but Zebian believes the consequences of this effect are nothing to scoff at.
"When cultural events reach down into your brain to reorganize your memory, that's really deep," says Zebian. "When memories are reorganized, other things happen to you — your daily practices and the fabric of your life changes, and that really affects you."