The Byblos port goes green, with help from LAU
The ancient municipality challenges LAU graphic design students to submit proposals for the Byblos Green Port Project.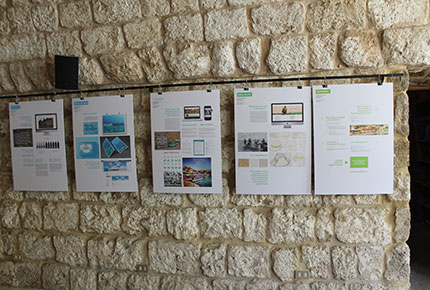 Known as the world's oldest continuously inhabited city, the Port of Byblos is undergoing significant transformation. The local municipality is working with Foundation Tyre, the League of Canaanite, Phoenician and Punic Cities of the International Association to Save Tyre to help position Byblos as an official green port. And they are doing so with help from LAU students.
Ayob Bark, vice president of the Municipality of Byblos, recently sought innovative campaign concepts for the new venture, and challenged students from LAU's department of graphic design to compete in a Byblos Green Port Project proposal. Nine LAU students competed to have their concept declared winner and be given the recognition of having their project implemented as the official Byblos Green Port campaign.
Dr. Melissa Plourde Khoury, assistant professor of Graphic Design at LAU, encouraged her students to participate in the contest. In her view, "Byblos is a remarkable city. I am grateful that our students can contribute to the betterment of this picturesque historic port for future generations." In celebration of Phoenicia day on May 9, student finalists Tanios Abi Saad, Lynn al-Khouri, Kareem Rifai, Marc Sawaya, Sandra Fayad, Rayane al-Mouallem, Gayath Chilbli El Masri, Ryan Abi and Alexander Curtis showcased their environmentally driven initiatives at the Municipal Cultural Center of the Old Souk in Byblos.
Inspired by the question, "Why don't I recycle?" Curtis developed his concept based on the excuses people make for not recycling and titled his proposal "No More Excuses." Using the port wall of Byblos as the main backdrop to the design, Curtis proposed to display recyclable waste with excuses inscribed on each object in both English and Arabic. Explaining the message people should take from the wall, Curtis said, "Each one of them will relate to some excuse, which will make them realize the trouble everyone goes through to avoid being eco-friendly."
Student competitor Abi proposes rewarding fisherman, hoteliers and restaurant owners along port corridor with a "Greenest of the Month Award." He suggested that the awards should come from the municipality, and should be accompanied by public recognition and reduced municipality yearly fees for the award winners. According to Abi, "By making Byblos a green port, it will propel Lebanon forward economically. The City of Byblos will also set a great example to other cities across Lebanon and hopefully encourage them to become more eco-friendly."
The jury has found the projects submitted to be so interesting that the municipality will in fact choose several of them in combination. According to Bark, "There were so many beautiful ideas that we thought it a shame to stick to only one."
His enthusiasm is echoed by Plourde Khoury: "It is a really exciting opportunity for everyone involved," she said.