The challenges of democratization in the Arab world
Egyptian activist and political science professor Dr. Rabab El Mahdi talks about the challenges of her country's uprising.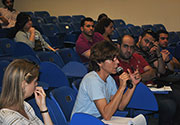 Questions from the audience.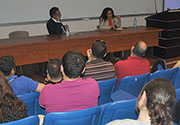 Dr. Rabab El Mahdi is an assistant professor of political science at the American University in Cairo.
Click on any photo for larger version.
The streets of Cairo came alive in January 2011 with an unprecedented fervor. While early demonstrators expressed their anger towards former President Hosni Mubarak, lack of economic opportunity and a list of other grievances, their cries for what most would consider basic needs and freedoms quickly morphed into something larger. Catchy slogans like "the Arab Spring" or "the Arab Awakening" were applied as outsiders attempted to classify the protests — and commentators used examples from other countries like Iran's 1979 revolution or the French revolution in the 18th century — to contextualize what was happening in Egypt.
Dr. Rabab El Mahdi, an assistant professor of political science at the American University in Cairo, visited LAU Beirut on May 10 to explain the challenges of democratization in the Arab world, and to talk about why Egypt's uprising is unlike any in history.
Audience members listened intently as she spoke about the shortcomings of the initial protestors, and what they failed to foresee when demanding democratic change. Their lack of organization, and complete inexperience in managing political change, were, in her opinion, why the Muslim Brotherhood was able to easily rise to power.
A self-proclaimed 'leftist' who was active in the revolution, el Mahdi explains why demonstrators were at a disadvantage.
"The way regimes developed in Egypt and in the Arab world, (exercising complete and total control), affected peoples' ability to organize," she said. "Elections or media were always bought off in one way or another, so it was a totally new experience for Egyptians." Bringing about political, social and economic change is no simple task, she warned, and leftists should learn from the Muslim Brotherhood, who started making inroads with the public long ago.
"Don't let leftists chalk up their failures to lack of support from Qatar or Saudi Arabia. The Muslim Brotherhood as we know it now was built through the university movement in the 1970s and 80s, and through reaching out to unions. Secularists need to work as hard as they did to relate to the people. They need to 'do the homework'."
Dr. Bassel Salloukh, associate dean of the School of Arts and Sciences and associate professor of Political Science, who organized the lecture, enthusiastically agreed with the notion that the Arab uprisings of the past two years are unique in history.
"The beauty about periods of extraordinary politics is that they make us re-think our theoretical models and paradigms," he said. "We need to make sure Arab revolutions contribute something to history, and that we as political scientists do not just apply existing theories to them."
Fourth year student Elsa Saade was inspired by el Mahdi's talk, saying it showed her that "that the voice of one woman can be more influential than the many voices we've heard for the past decades from politicians and leaders," adding that it was "an honor to have been in the same room with a woman who was part of the revolution."
Students agreed that they are the agents of change in the Arab world, and that it is important to take lessons from Egypt.