The free word in a time of oppression
The Institute for Media Training and Research hosts a broadcast journalism workshop for Iraqi journalists.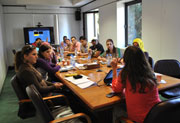 Participants came from various prominent Iraqi television stations.
Click on photo above for larger version.
LAU's Institute for Media Training and Research (IMTR) hosted a broadcast journalism workshop for 13 Iraqi journalists on the Beirut campus from May 26 to June 6.
The seven-day workshop, funded by USAID, allowed participants to enhance their reporting, writing and production skills as well as prompting them to reflect ethical principles relevant to journalistic practice.
"In the long run, the workshop is part of an effort to improve media in Iraq as a whole. We're getting there, one workshop at a time," says Dr. Yasmine Dabbous, assistant professor of journalism and media studies and director of IMTR.
The workshop comprised daily lectures tackling four main topics: storytelling through images, the importance of research and preproduction, the challenges of working on a visual story if it is picture-poor, and the importance of neutrality and objectivity.
Amal Hamdan, a part-time instructor in the Communication Arts department who helped organize the workshop, said the issue of objectivity is particularly important to Iraqi journalists in light of generations of press stiflement under the rule of former Iraqi President Saddam Hussein.
"The problem is now compounded by sectarianism," Hamdan added. "When you're reporting from a warzone in this context, your identity gets pigeonholed according to your sect." .
"We want to help these journalists open their mind and their eyes, and tackle issues they weren't able to before," she maintains.
The participants came from various prominent Iraqi television stations — including the U.S.-Defense-Department-funded Alhurra, and state-owned Al-Iraqiya — and brought with them a diversity of skills, experience, and views.
Yasser Sabih Rasheed, director at Salaheddin TV, says the workshop has helped him to understand the importance of proper elocution.
"We learned that news delivery is not just about what you have to say, it's also about the way you say it," says Rasheed. "You shouldn't, for instance, be monotonous or repetitive. The more concise your news report is, the better."
Among the workshop's trainers were former Al Jazeera Arabic correspondent Abbas Nasr, Docudays "Beirut International Documentary Festival" Managing Director Abir Hachem, and Al Arabiya Senior Correspondent Alia Ibrahim.
During her seminar on documentary filmmaking and feature-story writing, Ibrahim warned against the temptation to fudge details or loosen fact-checking in order to attract a larger audience.
"You have to make sure the information you're providing is accurate and factual — even little things can jeopardize your credibility," says Ibrahim.
During the last two days of the workshop, the participants were asked to produce an 80-second feature report on Iraqi director and playwright Jawad Al-Assadi.
In teams of three, the participants had to script, film, and edit the entire report, thus putting their reporting skills to the test.
"Interviewing Jawad Al-Assadi was a remarkable experience," says Alhurra reporter Nour Hussein.
"We got to know this man who is very familiar with what we're going through in Iraq, who is in a very similar position to ours. He speaks our reality," she explains.
The IMTR event was one in a series of three weeklong workshops addressed to various journalistic audiences. The next two, focused on advanced broadcast and newsroom management, will start on June 25 and July 9 respectively.